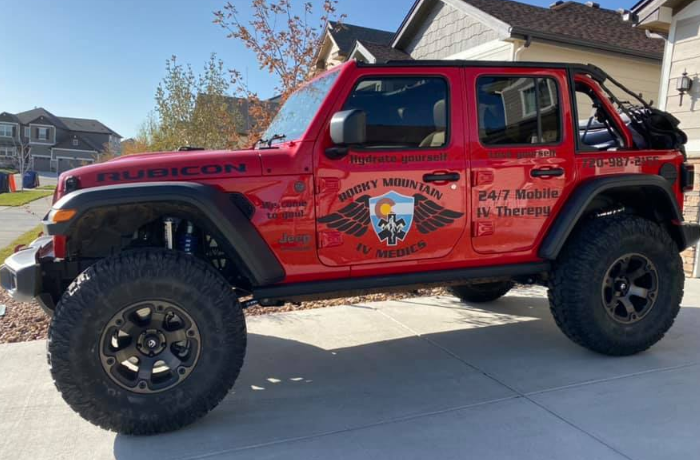 Fort Carson is a vibrant city and community with plenty to see and do. Situated in the picturesque Colorado Springs area — which is home to several military bases, including Peterson Space Force Base, NORAD, and the United States Air Force Academy — Fort Carson has deep roots in community pride, patriotism, and hard work.
Those are values we share at Rocky Mountain IV Medics, your trusted and leading provider of IV therapy in Fort Carson. With IV treatments that can help ease the symptoms of morning sickness, hangovers, colds, migraines, and other conditions, our patients have come to rely on our effective and fast services to help recover from hard work in the hot sun or to get ready for intense workouts.
With trained registered nurses and certified paramedics on our team who come to your home or office for treatments, we eliminate the hassle and inconvenience of traveling to an IV lounge, office, or hospital emergency department for treatment. IV vitamin therapy in Fort Carson, CO, is quick and easy with Rocky Mountain IV Medics. 
Contact us today to see how we can help.
When to Use
Mobile IV Therapy in Fort Carson
Recover Fast With IV therapy in Fort Carson, CO
One of the biggest benefits of IV therapy is the ability to recover faster from grueling exercise, a hard day's work, or other strenuous activity. Athletes and workers use IV therapy to bounce back faster and not be sidelined for as long with fatigue.
Dehydration is one of the most common obstacles to achieving optimal health and wellness. Simply put, our bodies can't function when they are low on fluids, which also means we are low on essential minerals, electrolytes, and vitamins we need to feel at our best.
On its own, dehydration may cause serious health problems and can result from intense physical exertion, food poisoning, and other issues. For this reason, a case of dehydration requires immediate treatment and rehydration efforts so you can feel like yourself again.
IV therapy delivers the critical fluids your body needs faster and more effectively than drinking fluids. That's because with IV therapy the fluids are infused directly into the bloodstream, so IVs work quicker than oral medications, which must be digested first.
Our trained medical professionals deliver high-quality IV vitamin therapy in Fort Carson, CO, to patients who are 10 years old and older. 
IV therapy can help with a wide range of issues!
How Much Does Mobile IV Therapy Cost in Fort Carson, CO?
Mobile IV therapy from Rocky Mountain IV Medics is safe, convenient, and, most of all, affordable! Our pricing packages are designed to be as affordable as possible, with costs ranging from $100 to $395. We also offer several different payment options you can choose from for greater flexibility. We don't think high costs should prevent you from incorporating IV infusions into your healthcare regimen.
How to Book a Mobile IV in Fort Carson, CO
When you are ready to book a mobile vitamin infusion in Fort Carson, it's simple and easy to do! We've taken the hassle out of getting treatment by bringing our services right to you at your home, office, or another location that's convenient for you.
Rocky Mountain IV Medics is the most reliable provider of mobile IV therapy in Fort Carson and throughout the other locations we serve across Colorado. Call or text us at (720) 987-2155 or schedule online to get started and see how our vitamin infusions in Fort Carson can help you.
Book Now!
Serving Fort Carson & all suburbs!
Open 8AM-8PM, Sunday-Saturday