Feeling under the weather, severely dehydrated, extremely fatigued or hungover? Struggling from symptoms of food poisoning, surgical recovery or menstrual cramps? Instead of reaching for a bottle of water and a pack of vitamins, contact Rocky Mountain IV Medics.
Our mobile IV therapy service brings rapid relief to you in the form of an IV drip. Nutrients administered through an IV bypass the digestive tract and go right to work in the bloodstream to help you feel healthier and more alert.
No matter where you are in Denver — including your workplace or the finish line at the Rock 'n' Roll Denver Half Marathon — our highly trained IV therapy paramedics can be at your door typically within an hour. Contact us the next time you need IV therapy in the Mile-High City.
The Denver Drip
Our best selling IV drip in Denver is the Myers' Cocktail IV. The Myers' Cocktail is one of the most famous iv therapy packages in the world for one reason - it helps people feel better by alleviating symptoms of numerous ailments. This IV package costs $195 for in-home service. It has the vitamins, antioxadants, and eletrolytes needed to help you feel better from illnesses, hangovers, and more!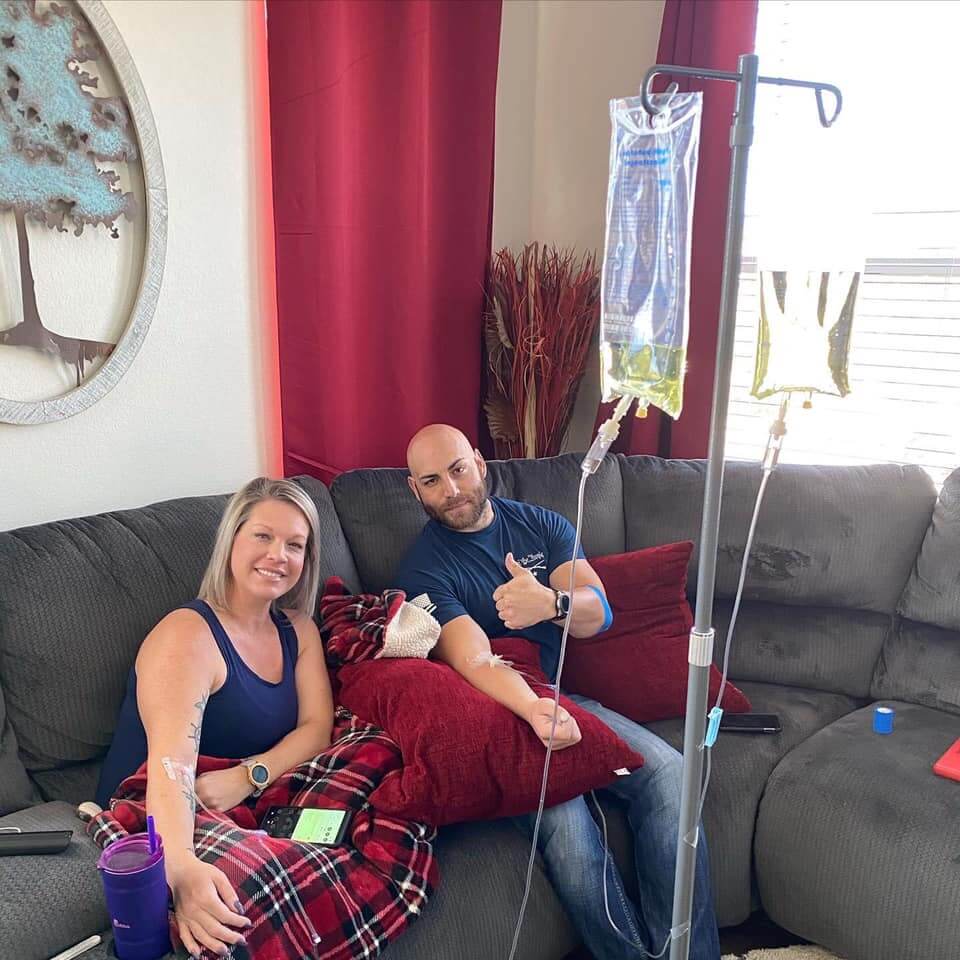 How Much Does an IV Drip Cost in Denver?
When Rocky Mountain IV Medics comes to your door, your personal team of expert medical professionals will ask you some simple questions. Afterward, they will recommend an IV drip package that meets your needs, after consulting with telemedicine doctors, if necessary.
Each of our IV drips contains saline along with medicine, vitamins and/or antioxidants. The average cost for IV therapy in Denver runs from $100 to $395, depending on which drip you choose.
What do you get when you call on us? We'll bring you:
Fast emergency service to anywhere in the Denver region, including your home, a hotel or the office.
An IV package designed for your specific situation, side effects and condition.
Expertly administered IV therapy handled by a knowledgeable and compassionate paramedic.
Speedy service with a focus on improving your body's condition and your mental state.
Paying for an IV drip package is simple and only requires a major credit card. You can even use your health savings account (HSA) card, if applicable.
Had a Busy Day in Denver? Our IV Hydration Services Have You Covered
Denver is known for having tons of things to do. However, some of the most frequent Mile-High City activities can leave you dehydrated and nutritionally depleted. Consider ordering IV therapy after spending the day enjoying any of these adventures:
Taking a hike in the nearby mountains, such as Grays Peak or Pikes Peak. Even if you bring lots of sunscreen and water, you can still wind up feeling like you ran a marathon and need a pick-me-up IV drip.
Exploring the Denver Zoo. Offering 80 acres to explore, this zoological treasure is a must-visit for residents and tourists. It's also a quick way to lose a lot of water as you stroll between breathtaking exhibits.
Rocking out to a concert at Red Rocks Amphitheatre or the Fillmore Auditorium. Time flies when you're singing and dancing to your favorite acts. By the time you leave, you're probably going to be a little drained and ready for immediate IV therapy.
Tailgating at a Denver Broncos or Colorado Rockies game. After hanging out with friends and family watching your favorite sport, you might experience headaches, body aches or a hangover. An IV therapy drip can help resolve those issues effectively.
Bar-hopping at the city's hottest nightclubs. If you partied the night away, the morning might not seem overly pleasant. Call Rocky Mountain IV Medics for relief.
This is the 1st item
This is the 2nd item
Serving Denver & all suburbs!
Open 8AM-8PM, Sunday-Saturday
Proudly Serving the Mile-High City and Beyond
It's our privilege to help people like you get the benefits of IV therapy administered in comfortable surroundings. If you live in Denver or any of the other regional locations we serve, we are ready to spring into action.
Get started with your first visit from our credentialed medical professionals by filling out our contact form online or by calling or texting us at (720) 987-2155.
Our Roots Are In Denver
Rocky Mountain IV Medics has served the Denver region since our opening in 2019.  Since then, we've ran thousands of house calls to help our patients alleviate the symptoms they're experiencing from ailments such as a cold, the flu, food poisoning, hangovers, medical conditions, fatigue, and more.
We can typically have a nurse or paramedic at your door in 1 hour or less to administer your treatment.  We pride ourselves in providing the highest level of service to each and every one of our patients. Our services are backed by 5 star reviews for a reason! We consider our team the premier IV therapy service providers in the entire Denver region.  If you are feeling well, schedule an appointment online or send us a text at 720-987-2155.