GOLD PACKAGE -

$

175
---
The GOLD hydration package is an IV that includes 2 add-ins of your choice. This package is recommended for everything from nausea to pain to food poisoning to mild hangovers. With this packages you can choose any additional 2 vitamins, antioxidants, or medicines we offer on the bottom of this page in the "vitamin add-ins" section.
The gold package comes standard with b vitimans and 1000cc of saline and is our second highest selling packge. Our team of trained medical professionals can help you determine what add-ins you should get, alongside helping with recommendations of what package will be most cost-effective for you to get feeling better.
2 Add-Ins of your choice (Vitamin or Medicine)
SILVER PACKAGE -

$

150
---
The SILVER Package is typically recommended for headaches, the cold or flu, or one too many drinks the night before. PH balanced fluids and B-Complex come with this package and you have the choice of one add-in as well. Typically anti-nausea or analgesic (non-narcotic pain reliever) are used as the medication with the silver package.
If deep hydration and a medicine is what you need to alleviate your symptoms, the silver package is for you. This package is also commonly used for nausea, pain, recovery and body aches. Our team can help you decide what add-in will be best for your symptoms if you want to schedule a silver package IV drip.
One Add-In of your choice (vitamin or medicine)
BRONZE PACKAGE -

$

125
---
Get hydrated as efficiently as posible with our BRONZE Package. The bronze package can give you a little extra boost of energy and hydration for an upcoming athletic event, a day in the sun, a bachelor party, moving to a new home, or even a bad nights sleep. This is the most affordable IV we offer with the exception of just getting normal saline.
Purely Saline -

$

100
---
Purely Saline is our cheapest in-home IV. This is designed for patients who need to get hydrated, but do not want additional vitamins or medicines. Many suffer from allergies or medical conditions that get this package. If you just need pure fluids for hydration and nothing else, this package is designed for you.
NAD+ -

$

200+
---
NAD+ is known for it's potential anti-aging and addiction treatment benefits. NAD+ is a coenzyme that occupies almost every cell in your body. The primary purpose of NAD+ is to fuel metabolic reactions by enabling your mitochondria, or your cells power stations that convert food to energy. NAD+ can help you overcome fatigue, aid with cell regeneration, and maximize brain function.
NAD+ (Price varies based on dosage)
You Can Add On To Any Package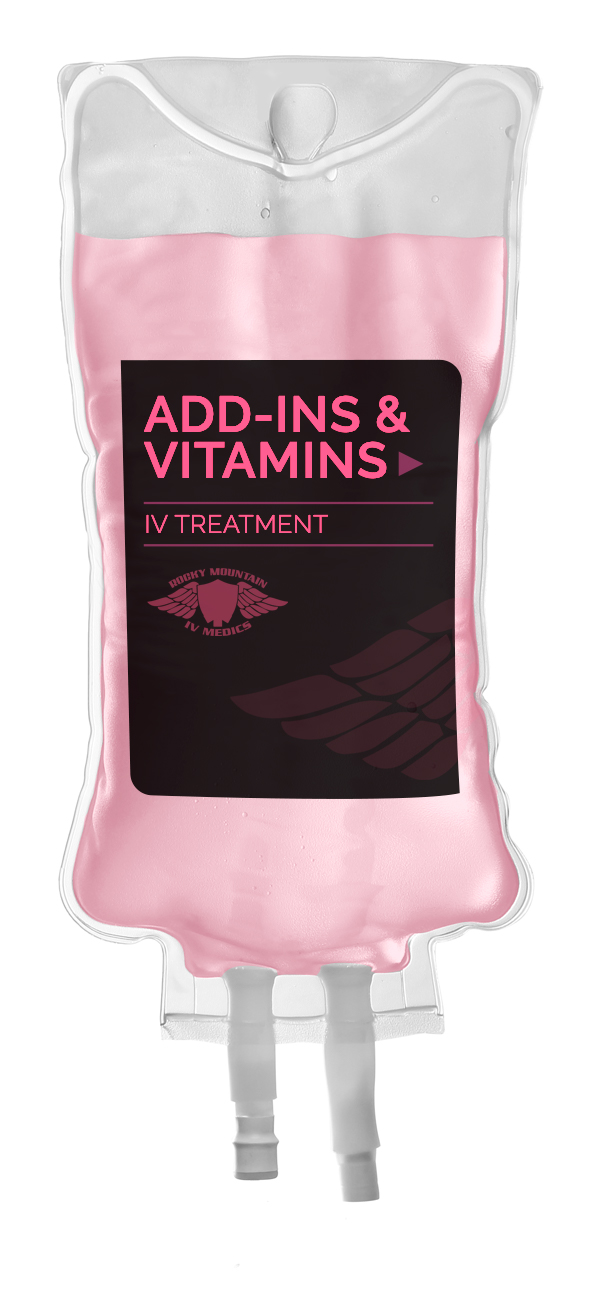 IM Injections
$

35
per injection
Additional Saline (1L)
$

50
How Much Is IV Therapy in Colorado?
Our in-home IV therapy packages range from $100-$395.  Add-ins such as vitamins can be added for $25 a piece or additional saline can be added for $50.  Each of our IV infusion packages comes with the same level of professional care and courtesy. Our service area covers Denver and the surrounding areas, and the price includes a paramedic's trip to your home or office. Following a brief assessment of your symptoms backed by our team of ER physicians, you will receive a recommendation for the IV best suited to your unique health situation and body chemistry.
Once you've chosen your IV therapy package and add-ins, your paramedic will collect your signed waiver, take your vital signs and numb the injection area with topical spray before administering your IV. 
At Rocky Mountain IV Medics, we strive to keep our IV therapy costs simple and straightforward so our Denver-area customers know exactly what to expect.
FAQs About Our Pricing
1
Do You Accept Insurance?
Not at this time. With Insurance Company's long and complex approval processes, they have made the coverage of IV therapy cost-prohibitive. By not accepting insurance, Rocky Mountain IV Medics can keep prices low and service convenient. We try to keep our prices below that of a typical copay or deductible with insurance, making coming to us directly likely costing less than a hospital or urgent care visit and way more convenient.
Yes, for groups:
10% off for 4-9 patients
15% off for 10-19 patients
20% off for 20+ patients
3
Do You Charge Sales Tax?
No. Our CPA has confirmed that the medical services we provide, do not have to charge sales tax.
4
Do You Charge Travel Fees?
No. There are no fees if you're located within our < a href="https://rockymountainivmedics.com/locations/">service area. If you don't see your service area listed, please absolutely call! Our Paramedics may still be able to get to you, we strive to treat every patient we can and if demand is large enough, will attempt to grow to your area ASAP.
5
Do You Have A Minimum Order?
Yes. Our team will not travel for orders of less than $100. For B12 shots, just gather a few friends and we'll be happy to make the trip!
Yes. Our IV treatment services are HSA approved.
Yes. Our team accepts and appreciates tips but not required. Thanks!
8
Do You Travel After Hours?
Yes. We offer 24-hours services, but additional fees may apply. Our normal operating hours are 8am-8pm every day. Outside of those hours are subject to availability and may include an "after hours" fee.
9
What Are My Payment Options?
Rocky Mountain IV Medics will accept all major credit cards, debit cards, cash, Venmo, PayPal and Zelle.
Get Affordable Relief From Your Home. Contact Rocky Mountain IV Medics
For any additional questions on our pricing or policies, call 720-987-2155 or reach out to us online. We believe no one should have to wait for relief, so we'll be sure to reply within 24 hours. When you're ready to experience the benefits of IV infusion therapy in the comfort of your own home, just give us a call or text and we'll be there for you.