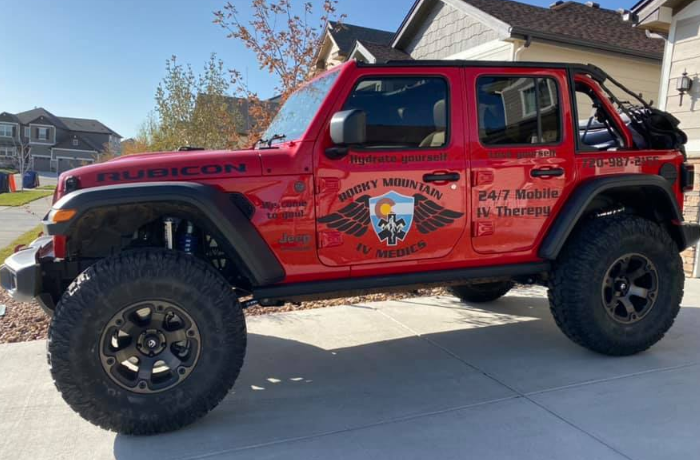 Arvada is a lively city. There's a lot to explore here, with the Arvada Center for the Arts and Humanities, Majestic View Nature Center, the historic shopping and dining district of Olde Town Arvada, and more. You don't want to miss out on any of it, so it's important to stay on top of your health. IV therapy is a great way to find symptom relief for illnesses, recover from athletic workouts or even maintain a vibrant state of wellness.
Rocky Mountain IV Medics is the one to call for exceptional IV therapy in Arvada. Our wide-ranging treatment menu covers everything from colds to chronic medical conditions. That's because IV therapy delivers fast, effective relief. Vitamins, minerals, and electrolytes that your body needs are infused into the bloodstream for the best results. Our mobile IV service is designed with your convenience in mind, with treatments performed at your home or office. Contact us today if you need mobile IV therapy in Arvada. 
Uses of IV Rehydration
Therapy in Arvada
IV therapy is instrumental in treating the effects of dehydration. Your body doesn't function as well as it should when it's low on fluids. That's where an IV treatment can help, as it replenishes you during a quick 45- to 60-minute treatment session. You can feel re-energized and reinvigorated with IV therapy.
You may be dehydrated due to any number of reasons: the flu, food poisoning, hangovers, heavy sweating, morning sickness, or even a persistent medical condition such as migraines. Our experienced medical team helps patients 12 years and older find the right IV solution. Our IV packages help with:
IV therapy can help with a wide range of issues!
Treat Hangovers with IV Therapy
After too many drinks, you may find yourself regretting them the next morning. A fun night out shouldn't come with consequences like nausea and fatigue. If you cannot make it through your day due to a hangover, consider Rocky Mountain IV Medics' hangover IV package. 
We recommend the Myers' Cocktail for those dealing with hangover symptoms. After a long night, this treatment will deliver a necessary infusion of saline hydration, along with nutrients such as glutathione, zinc, and magnesium, which can help stave off the worst of the symptoms and rid your system of leftover toxins.
Find Immediate Relief from Food Poisoning with IV Treatment
Food poisoning, morning sickness, and other causes of nausea often leave you feeling weak and unable to go through your daily routine. Thankfully, IV therapy at home is a possibility with Rocky Mountain IV Medics. We'll come to you and bring along our Myers' Cocktail With Anti-Nausea Medication. This combination can deliver nearly immediate relief from nausea and help restore nutrients your body may lose from vomiting. 
Alleviate Dehydration with IV Therapy
Dehydration is one of the most common reasons for ER visits in the United States, as it has numerous causes, including illness, excessive sweating, and drinking alcohol. If you're feeling dehydrated, Rocky Mountain IV Medics will deliver IV therapy for dehydration near you. Our formula is the same saline solution you would find in the hospital, along with extra vitamins designed to help you better absorb the saline and keep you from dehydrating again as quickly.
Ease Symptoms of Altitude Sickness with IV Therapy
One of our most common IV therapy treatments in Arvada, CO, is our Myers' Cocktail for altitude sickness. Altitude sickness is common amongst visitors to the area and anyone who enjoys spending time taking in the great nature spots throughout Colorado. Symptoms like shortness of breath, an increased heart rate, and headaches often occur once one travels at least 8,000 feet above sea level. Our IV therapy may ease symptoms of mild altitude sickness.
Relieve Chronic Migraines and Headaches with IV Treatment
Anyone with chronic migraines knows that even a small trigger can send all your plans to a screeching halt. Migraines can affect sensitivity to light, sound, touch, and even smell, alongside the painful headache and dizzying auras that make it impossible to leave the house.
Get IV migraine treatment in Arvada, CO, right from home with Rocky Mountain IV Medics. Our migraine treatment package delivers an infusion of B-complex vitamins, magnesium, pain medication, and anti-nausea medication to help ease your symptoms and get you back on your feet sooner.
IV Therapy for the Home or Office
We've streamlined mobile IV therapy so it's simple and safe. Don't struggle with traveling to an urgent care center or emergency room when you don't feel well. Instead, rest and relax in comfortable surroundings—we'll be there within an hour of your call to us. Paramedics perform all infusions. They check your vital signs, review your symptoms and health history and carefully monitor you during the treatment. 
Our IV packages feature top-quality ingredients. For instance, our popular Myers' Cocktail increases energy with a potent combination of vitamins C and B12, B complex vitamins, magnesium, zinc, and glutathione. Our affordably priced packages range from $100 to $395; add extra supplements or medications for $25 each. There are additional costs for add-on items and custom packages. Don't forget to sign up for our VIP program to receive news about promotions, events, and more.
Schedule Mobile IV Therapy in Arvada
Reap the benefits of IV therapy with Rocky Mountain IV Medics. We serve many locations throughout Colorado, so it's easy to make an appointment with us. Book a treatment online to take charge of your health today.
Book Now!
This is the 1st item
This is the 2nd item
Serving Arvada & all suburbs!
Open 8AM-8PM, Sunday-Saturday