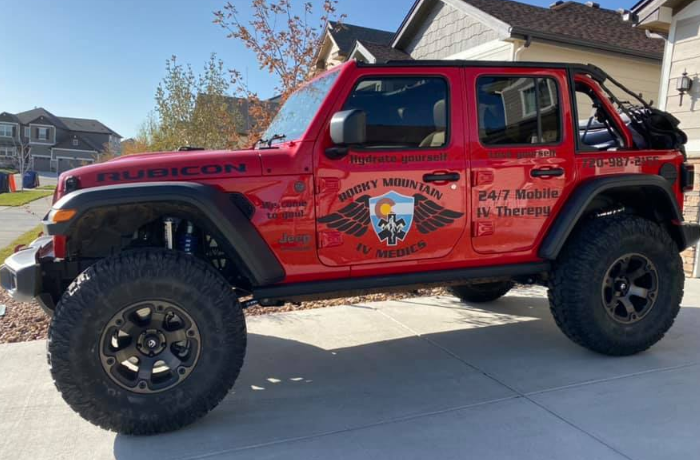 Residents of Boulder, Colorado, enjoy scenic views and plenty of outdoor activity. Whether you are a fan of hiking the Flatirons, dining out at top restaurants, or enjoying the bars and nightspots in this thriving university town, there's something for everyone here. After spending hours making the most of Boulder, there's a good chance you may feel some level of exhaustion or dehydration. That's when you need IV therapy in Boulder, CO. 
Rocky Mountain IV Medics is a mobile therapy service that administers hydrating infusions. We are a group of dedicated registered nurses and certified paramedics that visit your home to help you cope with common symptoms of migraines, hangovers, colds, and more. With our services, there is virtually no need to visit your local ER or doctor's office for relief.
We are happy to extend our services to those in the Boulder area as we visit homes within a 20-mile radius around Denver. Simply call from one of the locations we serve and we'll be on our way within the hour, delivering the best IV vitamin therapy in Boulder, CO!
Uses of IV Rehydration
Therapy in Boulder
Rocky Mountain IV Medics alleviates feelings of discomfort linked to dehydration. Our services help with a wide variety of conditions that keep you home from work or school for days on end. One of the most common uses for our rehydration therapy is to help you bounce back from the flu or the common cold.
People often think, "Why not just drink water or juice?" The truth is, the human body is slow to absorb the vitamins and minerals we need for proper functioning. Our nurses and paramedics distribute custom IV drips that deliver nutrients directly into the bloodstream for efficient uptake.
From feelings of weakness to aching muscles, Rocky Mountain IV Medics offers quick solutions for ages 10 and up. We assess your symptoms and learn more about your lifestyle to adjust our treatments accordingly. Rocky Mountain IV Medics frequently provide IV treatments for:
IV therapy can help with a huge range of issues!
Soreness from athletic training
Cancer
Cramps
POTS syndrome
Food poisoning
And more!
Our team helps you find the drip IV that will deliver the best results, so you can feel your best. Contact us today for your vitamin infusion in Boulder!
How Much Does Mobile IV Therapy Cost in Boulder, CO?
At Rocky Mountain IV Medics, we pride ourselves on offering our clients convenient, high-quality IV therapy in Boulder, CO. The days of waiting in line at the doctor's office are over since we come straight to you. No one wants to drive when they're feeling under the weather, so signing up for your first treatment is as simple as making a phone call. Best of all, this high-quality service isn't astronomically expensive. Rocky Mountain IV Medics offers competitive pricing packages that start at just $100 for the Purely Saline package for IV therapy in Boulder.
We also offer affordable customization options. You get the flexibility of adding your choice of vitamins, minerals, medications, or other supplements to your IV package to address specific symptoms or health goals. Prices for these add-ins start at $25:
Vitamins, Minerals, and Supplements
Amino Acid Blend
B Complex
Vitamin C
Vitamin B12 (methylcobalamin)
Biotin
L-Carnitine
Taurine
Glutathione
Zinc
Magnesium
Medications
Benadryl (diphenhydramine)
Zofran (ondansetron)
Pepcid (famotidine)
Reglan (metoclopramide)
Toradol (ketorolac)
From the best-selling Myers' Cocktail to cutting-edge NAD+ IV therapy, our diverse treatment menu offers something for everyone. Schedule your appointment with us for mobile IV therapy in Boulder, CO.
How to Book a Mobile IV in Boulder, CO
Tired of feeling exhausted or weak from dehydration? Rocky Mountain IV Medics wants to alleviate your symptoms so that you can get back to your daily routine. If you're interested in learning more about mobile IV therapy in Boulder and booking an appointment, be sure to call or text us today at (720) 987-2155 or schedule online.
Book Now!
Serving Boulder & all suburbs!
Open 8AM-8PM, Sunday-Saturday
Boulder, CO IV Therapy FAQs
1
How long do the effects of IV therapy last?
Many people feel the effects of an IV infusion almost immediately as the vitamins and minerals go right into the bloodstream. Those effects can last for days, but the specific length of time is different for each patient because there are many individual variables, such as IV type and how fast the body can metabolize the IV fluids.
2
How often do I need IV therapy?
Your infusion schedule depends on the type of IV therapy you need. If you're sick, you may need infusions until your symptoms are gone. You can also get a drip IV on an as-needed basis, whether you're staving off migraine symptoms during an attack or training for an endurance event. And if IVs are part of your regular wellness routine for anti-aging or more energy, you may want to schedule appointments weekly, every other week, or monthly.
3
When can I get at-home IV vitamin therapy in Boulder, CO?
We offer daily service from 8 a.m. to 8 p.m. Contact us about 24-hour service, which is subject to provider availability.
4
When can I get IV therapy at home?
You can get IV vitamin therapy in Boulder, CO, any day of the week with Rocky Mountain IV Medics. We offer daily service from 8 a.m. to 8 p.m., giving you the option for evening and weekend appointments. You can also inquire about 24-hour service, which may be offered for an extra fee, depending on provider availability.
5
How does at-home IV therapy work?
You just need to have a space in your house where you can relax during your infusion, and we will do the rest. Our team members bring all the necessary IV equipment and use their expertise to provide a safe and comfortable experience for you. Your vitals will be checked and your health history reviewed, and then you can watch TV, read a book, or listen to music during the infusion, which typically takes 45 to 60 minutes.