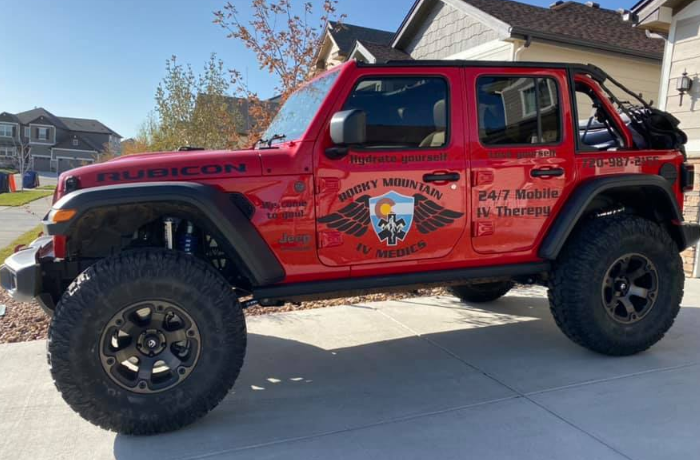 Aurora, Colorado, is widely known for its beautiful outdoor sights, shopping, entertainment, and craft breweries. People living in this area spend a great amount of time outdoors since hiking trails and bike routes are easily accessible. Both residents and those on vacation enjoy a number of tourist attractions such as Cherry Creek State Park and the Rocky Mountain National Wildlife Refuge. If you want to get the most out of your experience, you're going to need to monitor your health and stay hydrated, and one of the most effective ways to do this is with IV therapy. 
Rocky Mountain IV Medics specializes in high-quality mobile IV therapy in Aurora. Our IV hydration treatments help combat the symptoms of migraines, altitude sickness, colds, and more. Our paramedics travel to residential and commercial spaces around Aurora and the many other locations we serve to help clients alleviate discomfort without having to drive to IV bars, emergency rooms, or medical facilities.
All you have to do is give us a call, and our professionals will head to your address within an hour. Book an appointment in Aurora today!
Applications of IV Rehydration
Therapy Near Aurora, CO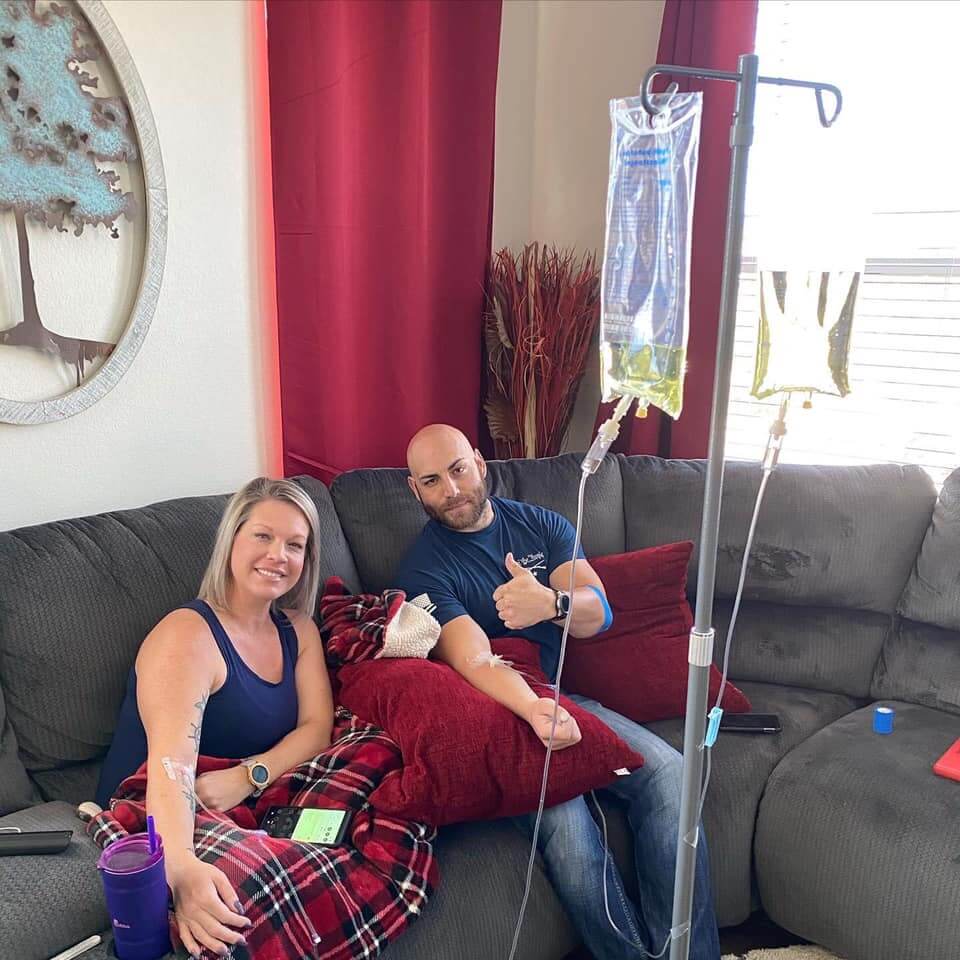 Our services are appealing for teens, college students, athletes, busy professionals, retired individuals, and more—IV therapy works for almost everybody! In Aurora, IV therapy with Rocky Mountain IV Medics can help you cope with dehydration symptoms linked to illness, exhaustion, and even sports training. The human body is slow to absorb nutrients through the digestive system, so we administer antioxidants, vitamins, and minerals directly into the bloodstream for maximum absorption.
Paramedics at Rocky Mountain IV Medics focus on your symptoms to craft an appropriate IV infusion plan. We provide our services to patients 10 years and older, and we'll introduce you to custom packages for workout preparation, recovery, and immune system support. A number of our clients schedule IV drips to manage muscle cramps, morning sickness, flu season, and food poisoning. There's so much IV therapy can do for you.

IV therapy can help with a huge range of issues!
IV therapy can help with a huge range of issues!
POTS syndrome
Cancer symptoms
Lack of energy
Nausea
Weight reduction surgery
Colonoscopy recovery
And so much more!
Contact Rocky Mountain IV Medics for the best IV therapy in Aurora!
Curb Hangover Symptoms with IV Therapy
Perhaps the most common reason for our IV treatment in Aurora is for hangovers. After a late night when you may have had a drink or two too many, the last thing you want to deal with is a morning full of headaches, nausea, and fatigue. Curb your symptoms and give your body the nutrients it needs to recover with Rocky Mountain IV Medics' hangover IV drip.
Our recommended treatment for hangovers involves an infusion of our Myers' Cocktail. This drip can help restore hydration levels and deliver extra B-complex vitamins, zinc and glutathione to stimulate your recovery.
Fight Food Poisoning with IV Treatment
If you've ever eaten improperly prepared or expired food, you're likely familiar with the nausea, dehydration, and fatigue that foodborne illness brings. Many people find that food poisoning makes them unable to leave their homes. If that's the case for you, our at-home IV teams are nearby to help.
When you come to us to alleviate your nausea from food poisoning, motion sickness, or any other condition making you feel nauseous, we'll administer our Myers' Cocktail With Anti-Nausea Medication. Whether your illness is a virus or environmental, this drip includes many nutrients to relieve your symptoms and replenish any fluids you've lost.
Relieve Dehydration Symptoms with IV Therapy
A dehydrated body and mind keep you from performing at your best, yet many Americans are chronically dehydrated, constantly dealing with excessive thirst, headaches, and fatigue. When dehydration makes it a challenge to get through your day, our home IV hydration in Aurora can get you back on your feet.
The base ingredient for our Myers' Cocktail is saline, which is the same fluid they use in the hospital to treat dehydration. At Rocky Mountain IV Medics, we can come to you and deliver near-immediate relief of your symptoms without the trip to the ER.
Treat Altitude Sickness with IV Treatment
Altitude sickness often occurs when one travels over 8,000 feet above sea level — a common occurrence for visitors to Colorado and local adventurers who take on our wilderness. Our recommended treatment for mild altitude sickness may combat symptoms like shortness of breath, headaches, nausea, and dizziness, allowing you to get back to exploring Colorado as you should.
Alleviate Migraines and Headaches with IV Therapy
Migraines often bring immense pain and sensitivity to sound, light and other sensations. When most people get a migraine, they're unable to get through their day-to-day life, but we have a potential solution — request IV migraine treatment in Aurora, CO, today. Our treatment includes hydrating saline, medications for pain and nausea, and nutrients like magnesium and zinc, which may help you recover from your symptoms sooner.
Recover After Visiting Cherry Creek State Park
Cherry Creek State Park is like a slice of heaven that perfectly encapsulates the outdoorsy Colorado lifestyle. Billed as Denver's "backyard playground," the park offers everything from camping to model airplane flying. Outdoor enthusiasts come for hiking, horseback riding, boating, kayaking, fishing, paddle boarding, and so much more. There's plenty to explore with 35 miles of multi-use trails set amid Cherry Creek's rolling hills and 880-surface acre reservoir.

There's a lot you can do at Cherry Creek State Park, but that means it can be easy to overdo it. Spending hours cycling or boating in the bright sunshine can lead to dehydration, especially if you're not staying hydrated during your adventures. Common dehydration symptoms such as fatigue, lightheadedness, headaches, and muscle cramps can slow you down if you don't replenish your lost fluids.

Our mobile IV therapy in Aurora, CO, rapidly rehydrates you to ease your symptoms and help you rebound quickly. Call on us when you want to get back on your feet and into the great outdoors!
Our Paramedics Visit Homes and Offices in Aurora
Rocky Mountain IV Medics extends our services within a 20-mile reach of Denver. We optimize our treatments for convenience, meaning there is virtually no reason to wait in lines at local IV bars. Simply call our representatives to schedule your appointment, and your path to recovery begins in no time.
Showcasing competitive prices and a full list of add-on vitamins, our services save you both time and money. IV treatment packages cost between $100 and $395. Read up on any of our IV drips online and know that we display everything that's included with your visit. The price you see is the price you pay.
Unsure which package is best for your dehydration symptoms? The Myer's Cocktail is one of our best-sellers, containing Vitamin B12, B-Complex, Vitamin C, Glutathione, Zinc, and Magnesium. All of our paramedics are willing to recommend treatments after discovering more about your lifestyle, condition and vital signs.
Call or Text to Schedule Your First Appointment
Are you feeling run-down from the burdens of dehydration symptoms? Rocky Mountain IV Medics are proud to serve Aurora and nearby locations in Colorado with IV drip therapy services. We'll help you live life to the fullest by replenishing the fluids and nutrients your body requires for healthy functioning.
Feel free to give us a call at 720-987-2155, or complete our contact form online to schedule an appointment today!
Book Now!
This is the 1st item
This is the 2nd item
Serving Aurora & all suburbs!
Open 8AM-8PM, Sunday-Saturday
FAQs
1
What is mobile IV therapy?
Our mobile service brings innovative IV therapy to the location of your choice, whether that's your home, hotel room, office, or gym. Schedule an IV during your lunch hour, after an intense workout, or on the weekend if you're feeling ill. With mobile IV therapy, receiving an IV drip has never been more convenient!
2
What is IV therapy used for?
IV therapy has many uses. Some people sometimes get an infusion when they are ill and suffering the effects of the flu, dehydration, altitude sickness, or other health issues. Other people rely on treatments to help manage symptoms of chronic medical conditions, like when they have a migraine or allergy attack. You can also schedule IV therapy as part of your regular healthcare maintenance to support a vibrant state of well-being.
3
How long do IV fluids stay in the system?
IV fluids are eventually metabolized and then excreted from the body. The amount of time the vitamins from your IV stay in your body depends on several factors, such as your state of health and the type of vitamins you choose.