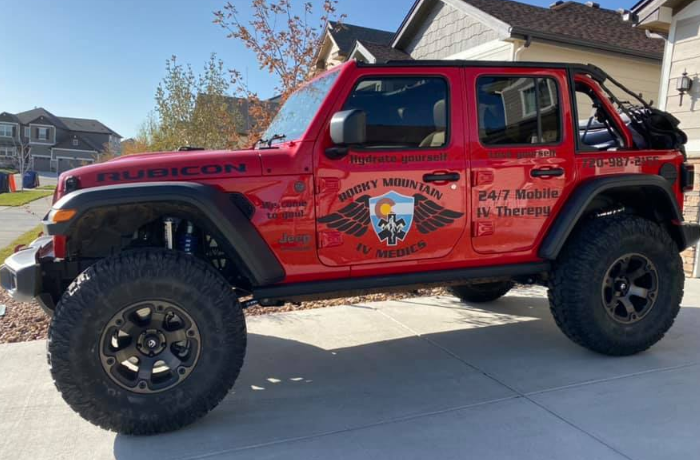 Broomfield, Colorado, is home to active residents who love spending time outside. This location is a hotspot for hiking, bike riding, and adventuring, thanks to a plethora of trails and gorgeous views. Whether you spend your days hiking the Flatirons Vista Loop or boating at Standley Lake Regional Park, it is crucial to monitor your health for feelings of dehydration.
If long days in the sun are starting to catch up to you, Rocky Mountain IV Medics is here to help. We are a mobile rehydration therapy service that performs IV infusions in the comfort of your home, office, hotel room, or other location. And there's something important you should know about our team: Every member is a medical professional with the expertise to create custom IV drips that can reduce symptoms relating to common colds, hangovers, morning sickness, and beyond.
Serving a 20-mile radius around Denver, we are your go-to IV provider for alleviating signs of exhaustion, illness, and fatigue. Give us a call and we'll send out one of our registered nurses or certified paramedics as soon as possible so you can experience the benefits of mobile IV therapy in Broomfield, CO!
Why Choose Mobile IV Therapy in Broomfield, CO?
Rocky Mountain IV Medics provides unparalleled IV therapy services, making us the go-to option for our clients seeking infusions of all kinds. Whether you're in need of a quick boost of energy with vitamin B12 or seeking prompt relief from the flu so you can recover and get back to work, we've here to help you.
Here's what you can expect from our mobile IV therapy in Broomfield:
Convenient and Reliable Service: Our responsive team brings IV therapy right to your doorstep, whether it's your home, office, hotel room, or any other location we serve in Colorado.
Expertise and Compassionate Care: You'll receive exceptional medical care from our skilled and professional staff. We select our team members for their extensive qualifications and their dedication to patient care..
A Diverse Menu of Infusion Treatments: We offer a wide range of IV therapy packages, giving you plenty of options to personalize your experience with various vitamins, minerals, and medications.
Competitive Prices: We believe in providing affordable access to our services, ensuring that you receive top-notch IV therapy without breaking the bank.
Get in touch with Rocky Mountain IV Medics for the best choice in Broomfield, CO IV therapy.
Common Uses of IV
Therapy in Broomfield, CO
There are many uses for vitamin infusions in Broomfield. IV therapy is excellent for boosting the immune system to fight cold and flu symptoms. However, we see a number of athletes who request treatment for muscle pain and training. Other applications for IV rehydration therapy include:
IV therapy can help with a huge range of issues!
Weight loss surgery
Cancer
Cramps
POTS syndrome
Food poisoning
And more!
Contact us to learn more about how you can benefit from vitamin IV therapy in Broomfield, CO!
What is the Mobile IV Process in Broomfield?
Rocky Mountain IV Medics strives to eliminate symptoms of dehydration for our clients in Broomfield. It is important to understand that the human body can only absorb so many nutrients through dietary means. Our nurses and paramedics help you recover from vigorous exercise, sickness, and strenuous activity using IV drips for direct uptake into the bloodstream.
We administer and customize IV treatments according to your symptoms and lifestyle. Our professionals take the time to find the exact combination of vitamins, minerals, and antioxidants to support your well-being. We appeal to a wide audience in the state of Colorado, as we extend our services to people ages 10 and up.
You can contact us for an appointment seven days a week. We will discuss your symptoms and health goals with you to come up with a personalized infusion plan. When our team member arrives at the location of your choice, they will review your health history, check your vital signs, and answer any of your questions before starting your infusion. You just need to relax, watch TV, read a book, or listen to music during the process. When it's over, you can go about the rest of your day, and the whole session only took 45 to 60 minutes of your time. You're in good hands when you call Rocky Mountain IV Medics for mobile IV therapy in Broomfield, CO.
Who Is Eligible for IV Therapy in Broomfield?
We offer our services to people ages 10 and up. You can talk to us about any current medical conditions you have or medications you're taking to ensure that IV therapy is the right fit for you.
How Much Does Mobile IV Therapy Cost in Broomfield, CO?
Our services are convenient and available with competitive pricing packages starting as low as just $100 and go as high as $395. Even our add-in supplements, vitamins, minerals, and medications are reasonably priced, starting at just $25 each. The days of having to wait in line at IV bars, doctors' offices, or ER facilities are over with our budget-friendly solutions.
Rocky Mountain IV Medics caters to your symptoms with recommendations for treatments. Tell us about how you're feeling and we'll be on our way with solutions in just about an hour. We'll look at your vital signs upon arrival to determine the right course of action. You can trust us for exceptional IV therapy in Broomfield, CO.
Schedule a Mobile IV Drip Today
Rocky Mountain IV Medics wants to prepare you for life's next adventure. If you live in Broomfield or one of the other locations we serve, look no further than our experienced, professional team. Reach out to us today by calling (720) 987-2155 or schedule online to book your first appointment for mobile IV therapy in Broomfield!
Book Now!
This is the 1st item
This is the 2nd item
Serving Broomfield & all suburbs!
Open 8AM-8PM, Sunday-Saturday
FAQ
Your health is worth any investment, and IV therapy is an affordable and effective solution for many wellness issues. Our clients rely on us to provide vitamin infusions in Broomfield that keep them hydrated with fluids that contain high-quality vitamins and minerals to support their well-being. Do you need to feel increased energy, combat flu symptoms, shake off jet lag or altitude sickness, or maintain a vibrant state of health? IV therapy can do all that, and so much more!
2
How long does it take for IV therapy to kick in?
This depends on how healthy you are at the time of the infusion. If you're dehydrated or ill, you can quickly feel the effects of your IV treatment, compared to when you're in top shape. Many people report feeling a difference within 30 minutes of their infusion session.
3
How long does an IV therapy session last?
An infusion session normally takes between 45 and 60 minutes, with no downtime required after your treatment ends. And mobile service that comes to you saves you even more time. Try our IV vitamin therapy in Broomfield, CO!