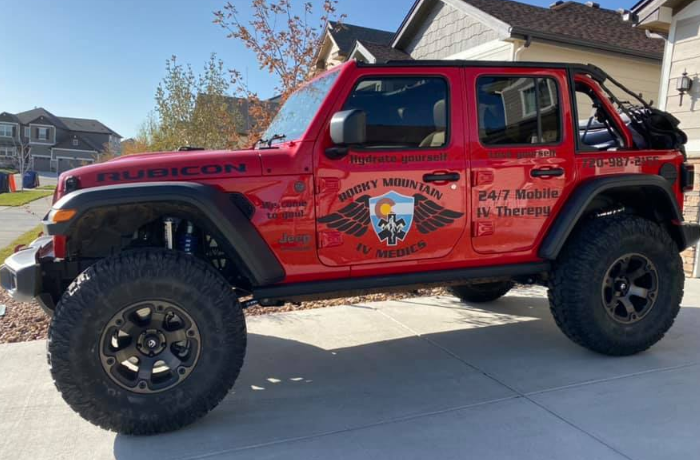 Durango is the poster child of Colorado living with its beautiful scenery, historic downtown, thriving cultural scene, and, of course, all the activities to enjoy in the great outdoors. With so much to do, you've got to stay on top of your health so you can savor it all. Support a vibrant sense of wellness with IV therapy in Durango from Rocky Mountain IV Medics.
Whether you're tired from a long hike on one of Durango's beautiful trails or stayed out a little too late having fun with friends, Rocky Mountain IV Medics has you covered. Our mobile IV therapy in Durango, CO, is delivered straight to your location. We provide a number of vitamins and minerals as part of our IV drips, allowing you to customize each treatment to your needs.
Plus, we'll come straight to your hotel room, office, or home to deliver your IV treatment in less than an hour.

IV fluids enter the bloodstream for maximum absorption so you can feel the powerful effects as soon as possible. Contact us to learn more about our team and book an appointment for outstanding mobile IV therapy in Durango.
Uses of IV Rehydration
Therapy in Durango
IV Therapy in Southwest Colorado
How do you spend your days in Durango? Snowboarding at Purgatory Resort, white-water rafting the Upper Animas, or hiking the Weminuche Wilderness? In Durango, IV therapy optimizes your health so you can truly enjoy what you love to do here.
IV therapy is a safe way to take care of your adverse symptoms. If you're feeling dehydrated, have a headache, or suffer from serious jet lag, we can help you reduce your symptoms and start feeling better again.
Rocky Mountain IV Medics offers several IV therapy packages for several health concerns, including:
Illness (Cold, flu, etc.)
Dehydration
Altitude sickness
Jet lag
Morning sickness
Workout conditioning and recovery
Weight-loss support
Anti-aging regimens
Chronic medical conditions such as migraines or allergies
Contact us when you need effective IV therapy in Durango. IV therapy has helped many people effectively reduce their adverse symptoms and get back on the wagon.
Who Is Eligible for IV Therapy in Durango?
You can try IV therapy with Rocky Mountain IV Medics if you are 12 years or older or weigh at least 100 pounds. Our mobile IV therapy in Durango, CO, can help if you are:
Trying to get back on your feet after the flu.
Dehydrated after a day of skiing the San Juan Mountains.
Having too much fun exploring the city's nightlife.
Creating a maintenance routine to help slow down the signs of aging.
Managing allergy symptoms during the beautiful spring and summer months.
Plus much more!
Personalize your IV drip treatment with a customizable blend of vitamins, minerals, supplements, and medications that give your body what it needs. We use our wide-ranging medical experience to develop the most beneficial IV treatment for you.
IV therapy can help with a wide range of issues!
How Much Does an IV Drip Cost in Durango?
Our IV packages typically range from $100 to $395, including travel fees to your location. Just provide us with a major credit card or another convenient form of payment, and you're ready to go!
The basic saline solution starts at $100, with prices going up if you want to add more ingredients (most are $25/apiece).


A list of our standard add-ons can be found below:
Vitamins, Minerals, and Supplements
Amino Acid Blend

B Complex

Biotin

Glutathione

Magnesium

L-Carnitine

Taurine

Vitamin B12 (methylcobalamin)

Vitamin C

Zinc
Medications
Benadryl (diphenhydramine)

Zofran (ondansetron)

Pepcid (famotidine)

Reglan (metoclopramide)

Toradol (ketorolac)
If you have any questions about which ingredients to include in your IV treatment, contact our experienced medical professionals for guidance.
With Rocky Mountain IV Medics, you get:
Prompt treatment in any of our multiple service areas in Colorado.

The expertise of our paramedics and registered nurses.

Top-notch, medical-grade ingredients like the kind used in hospitals and doctor's offices.

Warm, professional treatment that exceeds our high standards for safety and patient care.
How to Book a Mobile IV in Durango
Get in touch with Rocky Mountain IV Medics to book your IV session today. Our IV treatments are fine-tuned for your specific needs, allowing you to customize your IV drip as you see fit. You can book an IV treatment by phone or through our online scheduler. We are open from the hours of 8 .a.m. to 8 p.m. for IV therapy sessions. Book an appointment today for the best mobile IV therapy in Durango, CO.

Contact us today to get started! Call (720) 987-2155, email us at contact@rockymountainivmedics.com or schedule an appointment online.
Book Now!
This is the 1st item
This is the 2nd item
Serving Morrison & all suburbs!
Open 8AM-8PM, Sunday-Saturday
FAQ:
1
How much does IV therapy cost?
IV therapy typically starts at $100 for a basic saline solution. From there, you can add a number of ingredients to your IV drip, such as vitamins, saline, or even medications. Most of our add-in ingredients cost $25 to include. There are no extra delivery costs for IV therapy.
2
Can you get IV therapy at home?
Yes. You can get IV therapy delivered straight to your home. The nurses and paramedics at Rocky Mountain IV Medics can bring IV treatment to you, even if you're at the office, gym, or holed up in a hotel room. No longer do you have to drive to a hospital or clinic to receive IV therapy! Mobile IV therapy in Durango allows you to relax at home while we treat you. Before you know it, you'll be feeling more like yourself.