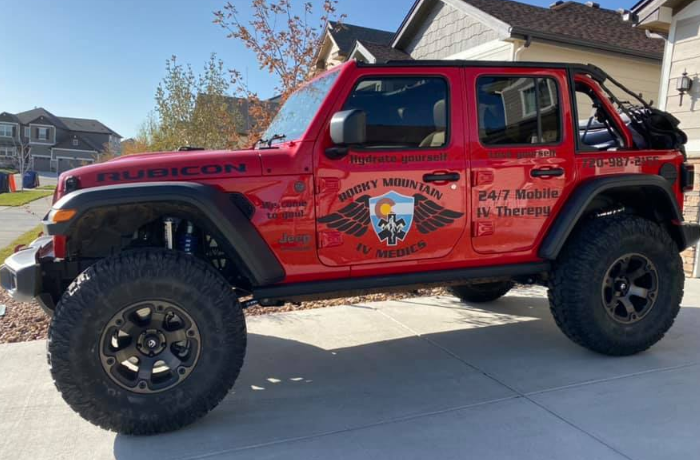 The Rocky Mountain high we get in Colorado is amazing, which is why it's no fun being brought down low by illness, dehydration, or just plain exhaustion. However, you can feel great again with Rocky Mountain IV Medics, the premier provider of mobile IV therapy in Delta, CO.
Book an appointment with us, and you'll experience the best IV therapy with convenient mobile service. We come to your home, office, hotel room, or other location of your choice, typically within an hour. Our prompt service, combined with our powerful, vitamin-packed drip IVs, make us the best choice for IV therapy in Delta.
Feel Rejuvenated in Delta, CO
IV treatment is known for its ability to rejuvenate and recharge when you want maximum results and quick effectiveness. That's because IV fluids are infused directly into the bloodstream so their ingredients can get to work. On the other hand, oral solutions have to first pass through the digestive tract so you lose time and absorbency while waiting for them to kick in. 
There's a lot you can do with drip IVs. Rocky Mountain IV Medics offers many treatments for mobile IV therapy in Delta. Use our IV therapy packages for: 
Illness (colds, flu, food poisoning)
Dehydration
Altitude sickness
Morning sickness
Nausea
Jet lag
Athletic support and recovery
Anti-aging
Weight-loss support
Chronic medical conditions such as allergies or migraines
We'll help you find the ideal treatment to meet your health goals. Contact Rocky Mountain IV Medics to enhance your health and well-being with mobile IV therapy in Delta, CO.
Who Is Eligible for IV Therapy in Delta?
In Delta, IV therapy is available to a wide variety of people. Rocky Mountain IV Medics treats patients ages 12 and older or those who weigh a minimum of 100 pounds. You can find relief if you are:
Trying to get your strength back after the flu knocked you down.
Preparing for an epic day of skiing, hiking, or mountain biking.
Rebounding from a night of heavy partying.
In need of a supplement to your weight-loss plan.
Looking for a way to boost your sense of wellness and vitality.
Managing the symptoms of a persistent health condition so you can go about your normal day.
All of our IV treatments can be customized with additional vitamins, minerals, supplements, or medications for a small fee. Contact us for personalized mobile IV therapy in Delta.
Uses of IV Rehydration
Therapy in Delta
IV therapy can help with a wide range of issues!
How Much Does an IV Drip Cost in Delta?
Our drip IVs average between $100 and $275, with travel fees to your location included. Payment is simple with a major credit card.
With each treatment, you receive:
Professional expertise with our registered nurses and paramedics (learn more about our team).
Responsive, reliable service thanks to our multiple service locations throughout Colorado.
Personalized treatment that follows strict guidelines for safety and patient care.
Don't wait any longer to try innovative mobile IV therapy in Delta, CO. Book an appointment with Rocky Mountain IV Medics today.
How to Book a Mobile IV in Delta 
Give your body what it needs to function at its best. Rocky Mountain IV Medics serves Delta and the surrounding area with IV treatment that promotes vitality and vibrancy.

Contact us today to get started! Call (720) 987-2155, email us at contact@rockymountainivmedics.com or schedule an appointment online.
Book Now!
This is the 1st item
This is the 2nd item
Serving Morrison & all suburbs!
Open 8AM-8PM, Sunday-Saturday