Castle Rock is one of the most idyllic towns in Colorado. There's an emphasis on community spirit, sports activities, and an appreciation for arts and culture. Plus, the surrounding landscape is beautiful, with 53 parks and 95 miles of trails for exploring the breathtaking open spaces. You don't want to miss a thing living in Castle Rock, which is why you need to stay as healthy as possible. Whether you're feeling sick or want to maintain good health, rely on Rocky Mountain IV Medics for high-quality IV therapy in Castle Rock.
IVs treatments are useful when you're fighting off symptoms of colds, the flu, or hangovers, trying to recover from a strenuous workout, or managing the effects of migraines and other chronic conditions. Rocky Mountain IV Medics is the leading provider of mobile IV therapy in Castle Rock, offering you convenient infusions at your home, office, or other location. You don't have to travel anywhere for treatment — just relax and make yourself comfortable while we care for you. Schedule a treatment and reap the benefits of IV vitamin therapy in Castle Rock, CO, today.
Recover Fast with IV
Therapy in Castle Rock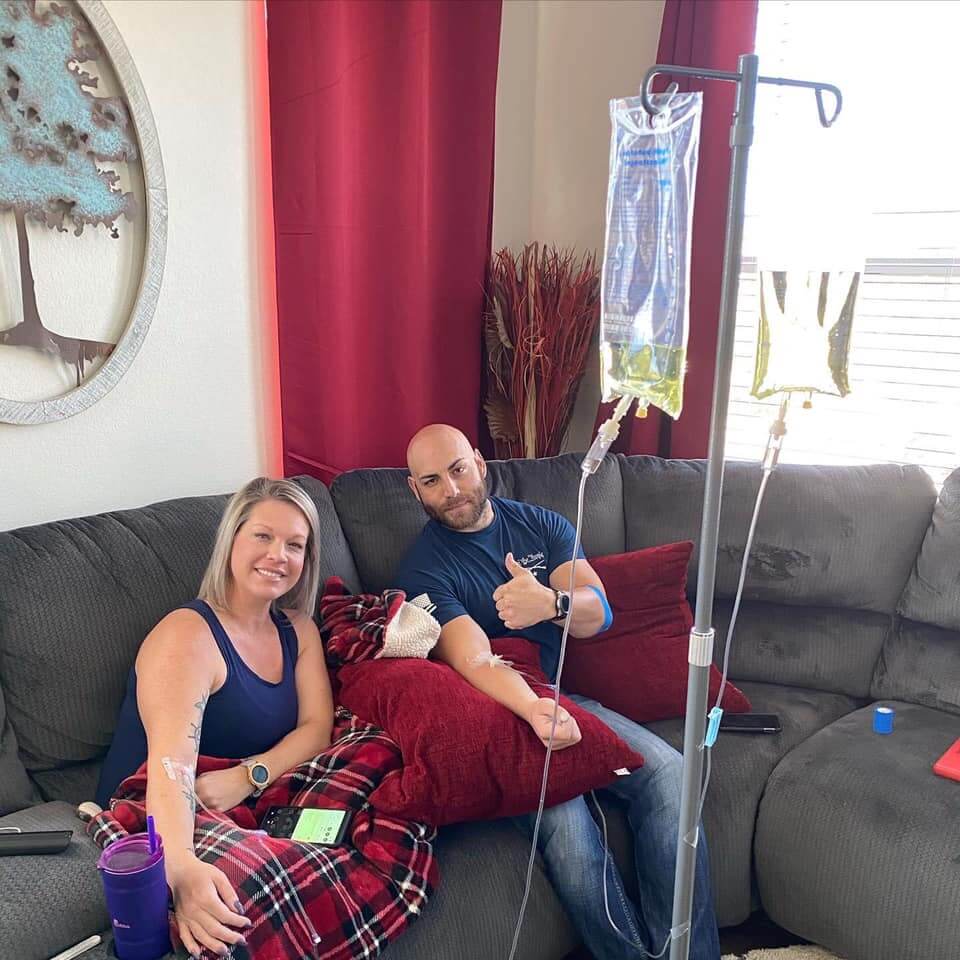 When your body loses valuable fluids, you also lose vital minerals, vitamins, and electrolytes. Without them, your health can suffer. An IV infuses rich, rehydrating fluids into the bloodstream for maximum absorption and fast-acting effects.
Dehydration is a common health issue. You can lose fluids after spending too much time outdoors in a hot climate or during an extreme athletic or endurance event. Dehydration can also occur as a side effect or symptom of many medical conditions, such as the fluid loss you may experience when you're sick with the flu.
IV therapy can help with a wide range of issues!
IV Treatment for the Home or Office
You don't need to schedule an appointment weeks in advance or sit in a waiting room for hours when you take advantage of mobile IV therapy. Rocky Mountain IV Medics provides reliable, streamlined service, with vitamin infusions in Castle Rock administered by experienced medical professionals. 
One of the members of our team will meet you within an hour of your initial call. They'll discuss your health history and check your vital signs before starting the infusion and then monitor you during the treatment. A typical session only lasts 45 to 60 minutes, and you can go about your day afterward.
All of our IV treatments deliver the best possible results. That's because we use only the best ingredients in every drip IV, including the Myers' Cocktail, which is a popular choice for increased energy. Affordable pricing packages range from $100 to $395, with additional medications or supplements starting at $25 apiece. 
Add-in Vitamins:
Amino Acid Blend
B Complex
Biotin
Glutathione
Magnesium
L-Carnitine
Taurine
Vitamin B12 (methylcobalamin)
Vitamin C
Zinc
Add-in Medications
Benadryl (diphenhydramine)
Pepcid (famotidine)
Reglan (metoclopramide)
Toradol (ketorolac)
Zofran (ondansetron)


There are additional costs for add-on items and custom packages. Access special deals, promotions, and more when you join our VIP program. 
Schedule Mobile IV Therapy in Castle Rock
Savor everything life in Castle Rock has to offer. Rocky Mountain IV Medics has several locations we serve throughout the state, so it's easy to find treatment near you. Book an appointment online today for your vitamin infusion in Castle Rock.
Book Now!
This is the 1st item
This is the 2nd item
Serving Castle Rock & all suburbs!
Open 8AM-8PM, Sunday-Saturday
FAQs
1
How much do IVs usually cost?
We're not like other mobile IV providers who may charge more for their treatment packages or add fees to travel to your home or office. We are very clear about our costs upfront, so you know exactly what you're getting and for what price. We want everyone to enjoy the benefits of IV infusions, so we've priced our services as affordably as possible when it comes to mobile IV therapy in Castle Rock.
2
How long do IV therapy results last?
Many of our patients report feeling better soon after their infusion is over, and they continue feeling that positive health shift in the following days. It's difficult to put an exact number on how many days or weeks your IV therapy effects will last because the answer is different for each person. Age, health status, and IV ingredients are just a few of the individual factors that can determine the impact IV therapy will have on your wellness. Contact us if you want to learn more about IV infusions or ask any questions.