What can you do in Glenwood Springs? It's more like, what can't you do? This vibrant Colorado town has it all, from snowboarding and kayaking to hiking and paragliding. Throw in the famous hot springs, shopping, the lively downtown, and historical museums and contemporary galleries, and it's easy to fill your days and nights. You can enjoy all this when you maintain your health and wellness with IV therapy in Glenwood Springs from Rocky Mountain IV Medics.
We come to you—at your home, office, or hotel room—with responsive, reliable service. No waiting for a doctor's appointment or treatment at an urgent care center, as we aim to get to you within an hour. You get privacy and convenience, as well as IV infusions performed by medical professionals. Try the leader in mobile IV therapy in Glenwood Springs: Book an appointment with Rocky Mountain IV Medics today.
The CO Drip
Our best selling IV drip in Denver is the Myers' Cocktail IV. The Myers' Cocktail is one of the most famous iv therapy packages in the world for one reason - it helps people feel better by alleviating symptoms of numerous ailments. This IV package costs $175 for in-home service. It has the vitamins, antioxadants, and eletrolytes needed to help you feel better from illnesses, hangovers, and more!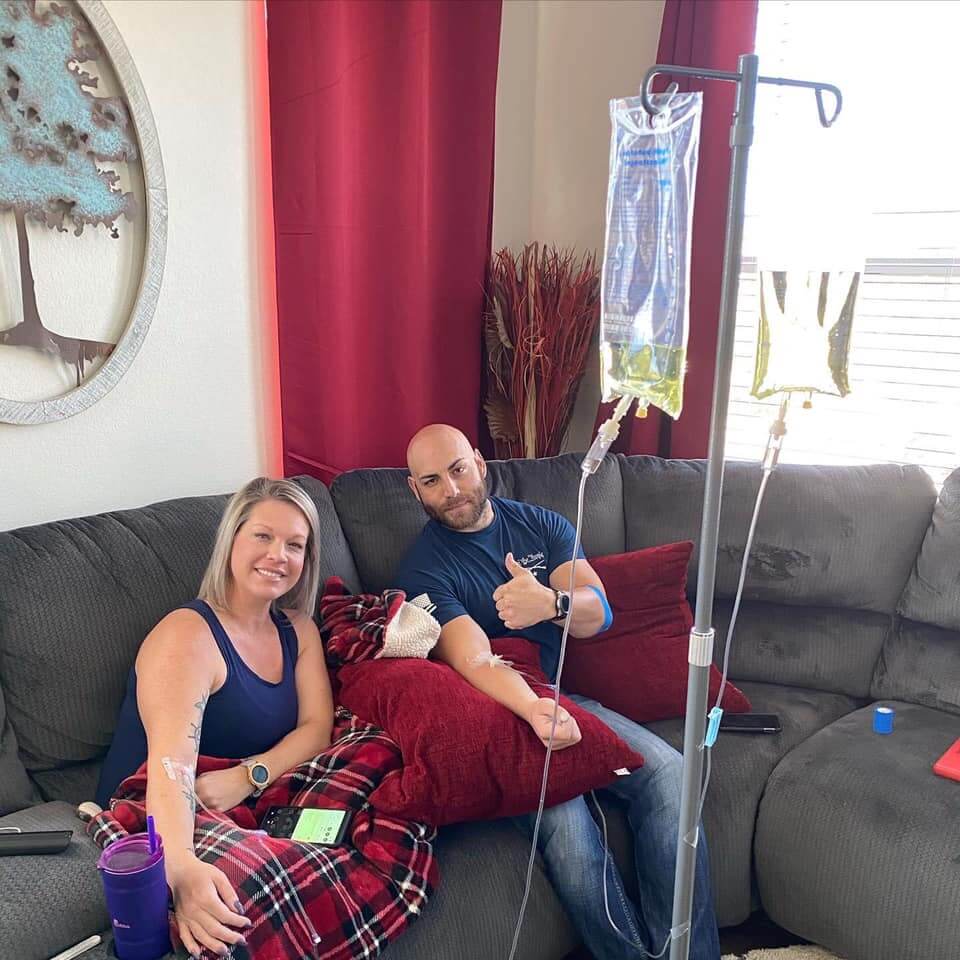 Feel Rejuvenated in Glenwood Springs, CO
In Glenwood Springs, IV therapy rehydrates and recharges by delivering fluids packed with vitamins and minerals into the bloodstream. You get fast, maximum absorption for effective results. 
Our IV therapy packages reflect the versatility of this innovative treatment. Use it for:
Dehydration
Colds, flu, and illnesses
Altitude sickness
Morning sickness
Jet lag
Hangovers
Fatigue
Athletic conditioning and recovery
Anti-aging regimens
Weight-loss support
Migraines, allergies, and other chronic conditions
Get in touch with Rocky Mountain IV Medics for your IV therapy in Glenwood Springs.
Who Is Eligible for IV Therapy in Glenwood Springs?
You can receive IV treatment from us if you are 12 or older or weigh at least 100 pounds. 
Let our mobile IV therapy in Glenwood Springs, CO, help you:
Rebound from the flu with rapid symptom relief.
Rehydrate and re-energize after your favorite outdoor activity.
Recover from the draining effects of a hangover.
Support your mental and physical well-being.
Manage allergy symptom flare ups.
Plus much more!
We'll talk with you about your health history and any current symptoms to craft the ideal IV treatment. You can even customize your drip bag with extra ingredients for IV therapy that is unique to you!
How Much Does an IV Drip Cost in Glenwood Springs?
The prices on our treatment menu typically range from $175 to $395, and that includes travel fees to your location. All you need is a major credit card, and you're ready to get the ultimate IV therapy experience.
Rocky Mountain IV Medics gives you:
Convenient IV treatment in the many locations we serve.
The expertise of paramedics and registered nurses (learn more about our team).
High-powered ingredients for optimal effectiveness.
Exceptional safety and patient care.
This is the 1st item
This is the 2nd item
Serving Denver & all suburbs!
Open 8AM-8PM, Sunday-Saturday
Schedule an In-Home IV Therapy Appointment with Rocky Mountain IV Medics
We're here to help you feel like the best version of yourself. Book an appointment for outstanding mobile IV therapy in Glenwood Springs, CO.