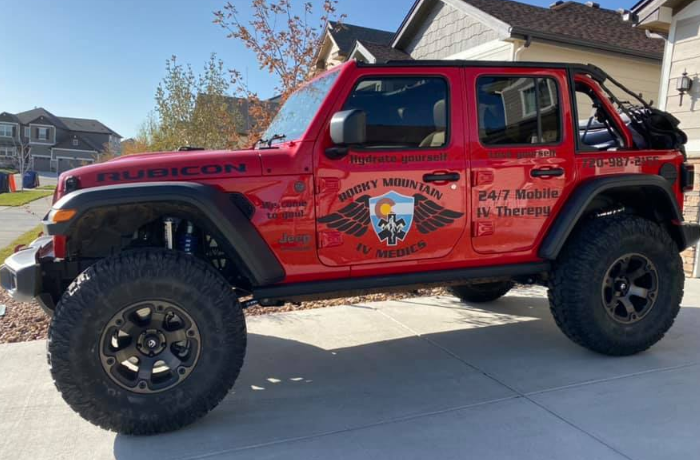 Well-known for its year-round sunshine and appealing climate, Fort Collins, Colorado, continues to be an attractive place to live and visit. Located along the base of the Rocky Mountains, Fort Collins offers lots of indoor and outdoor recreational activities. It's easy to spend a day discovering the wonders of nature or an evening on a pub crawl throughout the city's hottest microbreweries. However, it can also be easy to overdo it.
If you discover that you're low on hydration or feeling under the weather, you don't have to wait for relief. IV mobile therapy from Rocky Mountain IV Medics delivers replenishing nutrients directly into your bloodstream. Why head to the emergency room or a public IV bar? Get discreet, personalized IV drips at your home, business or other location in and around Fort Collins.
Text or call (720) 987-2155 to set up your appointment. You can also arrange a visit through our online scheduling system.
When to Use
Mobile IV Therapy in Fort Collins
Are you new to the idea of calling on mobile IV treatment to help ease symptoms related to medical conditions? As medical professionals have known for decades, IVs send key nourishment, medication and nutrients into your body faster than oral delivery.
What kinds of conditions can a mobile IV alleviate? Clients who are 12 years and older in Fort Collins choose IV mobile therapy to help them get relief from a variety of problems, including:
Colds and flu
Nausea and food poisoning
Hangover
Altitude sickness
PMS symptoms
Surgery recovery symptoms
Pain management
Why wait to feel your best? Contact us today and we'll bring your mobile IV therapy to you within about an hour. It's a fast, safe and simple way to get the boost that can only come from an IV drip cocktail.
What Can You Expect From Mobile IV Therapy?
We've made it a straightforward process to get the advantages of an IV drip at your residence, office or hotel room. After you make contact with us, we'll give you a call to arrange all the details. If you haven't chosen which IV drips you want, our paramedics can help you decide. Some of our bestsellers include the Myers' Cocktail and Purely Saline with vitamin or medication add-ons.
Once your order is finalized, we'll head to your location in or around Fort Collins. When we arrive, we'll set up everything and a paramedic will carry out your mobile IV. All you have to do is sit back in comfort. Most clients report a difference in their symptoms very quickly after getting IV mobile therapy.
Schedule Mobile IV Therapy in Fort Collins
Ready to get a mental and physical boost? Whether you've played hard all day and had too little water, or you're experiencing symptoms from a chronic condition, trust Rocky Mountain IV Medics.
Our paramedics come to all neighborhoods and communities in Fort Collins, CO, such as Downtown, North Fort Collins, Midtown, East Fort Collins, South Fort Collins and West Fort Collins. Schedule your IV therapy today!
Book Now!
Serving Fort Collins & all suburbs!
Open 8AM-8PM, Sunday-Saturday