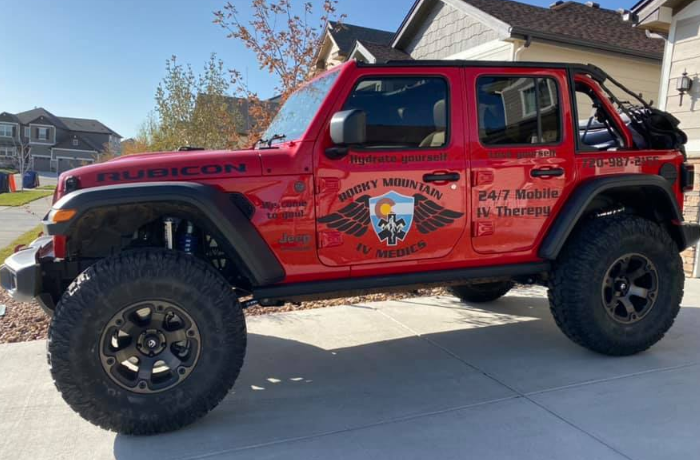 Gunnison offers plenty of fun from day to night with its national park, vibrant dining scene, reservoir and whitewater park, and observatory. However, too much fun can wear you down. If that's the case, lift your spirits with Rocky Mountain IV Medics' mobile IV therapy in Gunnison, CO.
IV or intravenous therapy provides hydrating saline and a vitamin infusion directly into your bloodstream. Bypassing your digestive system allows IV therapy to be optimally absorbed in your body. IV therapy in Gunnison can help with anything from dehydration to fatigue, anxiety, headaches, morning sickness, and even hangovers. 
Our convenient mobile service comes to your home, office, hotel room, or other location. Book an appointment for exceptional IV therapy in Gunnison today!
IV Therapy in Colorado's Wine Country
Gunnison has inviting wineries where you'll want to stop and sip. But you don't want to overdo it—or any of the other exciting things the city offers. 
If you're not feeling your best while you're in town, try an IV. Rocky Mountain IV Medics offers Gunnison IV therapy services that provide rapid symptom relief.
Try IV therapy for:
Dehydration
Colds, flu, and other illnesses
Jet lag
Altitude sickness
Athletic conditioning and recovery
Nausea
Morning sickness
Weight-loss support
Anti-aging maintenance
Chronic medical conditions such as migraines
Let us find the right treatment for you. Work with us for mobile IV therapy in Gunnison.
Uses of IV Rehydration
Therapy in Gunnison
Who Is Eligible for IV Therapy in Gunnison?
Are you a good candidate for Gunnison IV therapy? Most healthy teens and adults can safely enjoy big benefits from using IV therapy. At Rocky Mountain IV Medics, we treat patients who are 10 and older or weigh at least 100 pounds. 
Please let your IV health professional know if you have any underlying health conditions or allergies to any substances. Our goal is to make your IV treatment as safe and helpful as possible. 
Think you should try IV therapy? It can be beneficial for people who:
Need symptom relief from the flu.
Want to rehydrate after a major athletic event.
Seek an extra boost of mental or physical energy to feel re-energized.
Need relief from nausea related to hangovers, altitude sickness, or another issue.
Have to cope with symptoms of allergies or migraines.
All of our IV therapy packages can be customized by adding extra vitamins, minerals, supplements, or medications. This personalized service is one reason why we're the best choice for IV therapy in Gunnison.
IV therapy can help with a wide range of issues!
How Much Does an IV Drip Cost in Gunnison?
The drip bags on our IV treatment menu range from $175 to $395, with additional ingredients available for a small fee. Rocky Mountain IV Medics gives you:
High-level patient care with our registered nurses and paramedics (learn more about our team).
Fast, responsive service at the convenient location of your choice.
A diverse array of drip IV bags that we tailor to your specific health needs.
Book an appointment with Rocky Mountain IV Medics and see why we're the premier provider of mobile IV therapy in Gunnison, CO.
How to Book a Mobile IV in Gunnison
Give your body what it needs to function at its best. Rocky Mountain IV Medics serves Gunnison and the surrounding area with IV treatment that promotes vitality and vibrancy.

Contact us today to get started! Call (720) 987-2155, email us at contact@rockymountainivmedics.com or schedule an appointment online.
Book Now!
This is the 1st item
This is the 2nd item
Serving Morrison & all suburbs!
Open 8AM-8PM, Sunday-Saturday
IV Therapy FAQs
1
Can I get IV fluids at home?
Absolutely! In fact, mobile IV therapy in Gunnison, CO, is what we do. At Rocky Mountain IV, our team of professional, licensed health providers will come to your home and provide you with IV treatment in a private and comfortable space. As long as you live without our service locations, which include Gunnison, we will come to you. We can also provide IV therapy at your office or at your hotel if you are visiting Gunnison on a trip.
2
Is IV therapy worth the money?
No one can really answer this question but you. We will say that the vast majority of our customers are satisfied with their treatments. Many come back seeking additional IVs. Mobile IV therapy in Gunnison is a great choice for anyone looking to feel more energized, focused, and recharged. We can assist with many common health complaints, like migraines, nausea, flu and cold symptoms, and more. We also offer IV treatments at a variety of price points so that we can fit most budgets. If you are looking for an IV but need to stick to a budget, try our Bronze Package at $125. You can also control your costs by creating a custom IV solution using our available add-in ingredients.
3
How long will IV therapy last in your body?
The duration of your IV treatment will depend on the ingredients in your infusion. Some ingredients may only last a few hours, while other ingredients could stay in your body for several days. Over time, your body will naturally metabolize or flush ingredients out of your body. The effects of an IV can last longer than the ingredients themselves. For example, you may feel refreshed and energized for days after receiving your IV treatment.
4
How long does an IV appointment take?
We ask that you set aside a full hour for your IV therapy in Gunnison. In most cases, the actual treatment will take between 45 and 60 minutes. Which includes giving your IV provider time to set up and prepare for the treatment. The healthcare professional will perform a short health history and medical evaluation to make sure you are a good candidate for the treatment. You might also want to take this time to ask any questions you have or request a recommendation on the best IV solution for you.