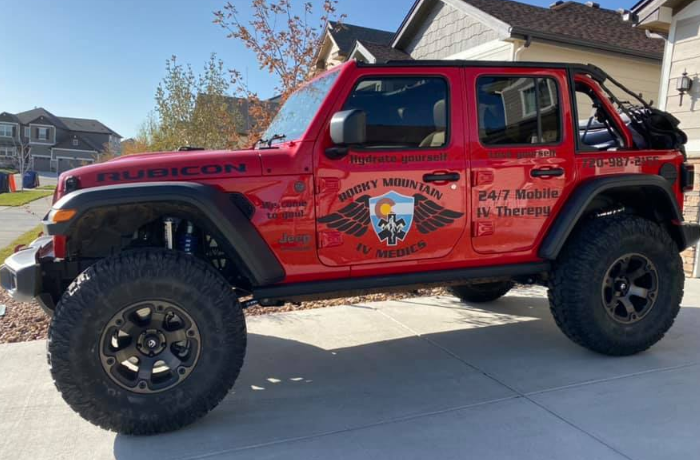 There's plenty to see and do in Lakewood. Excitement is around every corner, whether you are exploring the 40 West Arts District or hiking and mountain biking in Bear Creek Lake Park. You need to stay healthy and well-hydrated to enjoy everything Lakewood has to offer, and that's where IV therapy can help.
Rocky Mountain IV Medics is the leading provider of IV therapy in Lakewood. We offer IV therapy packages that ease the symptoms of colds, morning sickness, hangovers, migraines, and more. Our patients rely on our fast and effective service to help them prepare for intense workouts or recover from days spent in the hot sun. 
We eliminate the inconvenience of traveling to an IV lounge or hospital emergency room for treatment. Instead, our trained nurses and paramedics come to your home or office for the most convenient mobile IV therapy in Lakewood. Call us today to see how we can help you. In Lakewood, IV therapy is available when you need it with Rocky Mountain IV Medics.
Uses of IV Rehydration
Therapy in Lakewood
Dehydration is one of the biggest barriers to achieving optimal health. Your body can't properly function when it's low on fluids because that means you're probably low on essential vitamins, minerals, and electrolytes, too.
Dehydration can cause many health issues on its own. It can also be a side effect of food poisoning, intense physical exertion, or other problems. Whatever the cause, dehydration requires immediate rehydration so you can start feeling better again. IV therapy provides the critical fluids your body needs. And because they're infused into the bloodstream, IVs work faster than oral medications, which have to be digested first. 
Our trained medical professionals provide high-quality IV therapy in Lakewood to patients 10 years and older. There are many uses for IV therapy, and patients can also customize their packages to take advantage of this versatility.
IV therapy can help with a wide range of issues!
IV Therapy for the Home or Office
Your safety, comfort, and convenience are our primary concerns. We've taken the hassle out of IV therapy in Lakewood by bringing our services to you, wherever you are. We typically send our highly trained team members to you within an hour of your initial call. Our paramedics check your vital signs, discuss your current medical condition before starting treatment, and monitor you throughout the process.
We use high-quality fluids in all of our IV drip bags. Our IV packages include the popular Myers' Cocktail, which contains vitamins C and B12, B complex vitamins, magnesium, zinc, and the antioxidant glutathione. We offer competitively priced packages from $100 to $395; you can add extra vitamins to your IV for $25 each. Join our VIP program to learn about our exclusive specials, events, and more. See why so many people rely on us for mobile IV therapy in Lakewood, CO.
Schedule Mobile IV Therapy in Lakewood
Rocky Mountain IV Medics is the most trusted provider of mobile IV therapy in Lakewood, as well as the many other areas we serve in Colorado. Call or text us at (720) 987-2155 or book an appointment online to get started and see how IV therapy can help you.
Book Now!
This is the 1st item
This is the 2nd item
Serving Lakewood & all suburbs!
Open 8AM-8PM, Sunday-Saturday
FAQs
1
Can IV treatment be done at home?
Yes! In Lakewood, IV therapy can be done at home with the expertise of the team members at Rocky Mountain IV Medics. We bring all the IV supplies to your home and carefully monitor you throughout your 45- to 60-minute session. All you have to do is relax and get comfortable—watch TV, read a book, listen to music, or work on your laptop. And with us, mobile IV therapy in Lakewood, CO, isn't limited to your home—we can come to your office, gym, hotel room, or other location.
2
How much does a banana bag IV cost?
Our version of a banana bag is the Myers' Cocktail. This drip bag can help you feel more energized and less fatigued, but it also helps alleviate symptoms associated with many common health issues. It costs $195, and we don't charge any travel fees for our mobile service. We also offer the Ultimate Myers' Cocktail, with increased amounts of vitamin C and glutathione, for $295. You can also add extra ingredients to a Myers' Cocktail for a small fee if needed.
3
Is IV therapy worth the money?
Yes, especially with Rocky Mountain IV Medics, where our prices are designed to be as affordable as possible. We also offer several different payment options you can choose from for greater flexibility. We don't think high costs should prevent you from incorporating IV infusions into your healthcare regimen.
4
How often should you get IV vitamin therapy?
It depends on what you're using IV infusions for, your overall health, age, and other factors. Some people get IV therapy when they aren't feeling well, while others use IV treatments on a regular basis for overall wellness support. Our team members are all IV pros who can help you set up the proper treatment schedule to meet your health objectives.
5
When can I make an appointment for IV therapy?
Our team members are on call every day from 8 a.m. to 8 p.m. to help you. We can also accommodate around-the-clock appointments, depending on nurse availability.
6
What kind of medical experience do you have?
Our team members are medical professionals, including registered nurses and paramedics, who work in conjunction with a naturopathic doctor on our staff. They also receive medical direction from board-certified physicians via telemedicine. Learn more about us and our expertise in mobile IV therapy in Lakewood, CO.