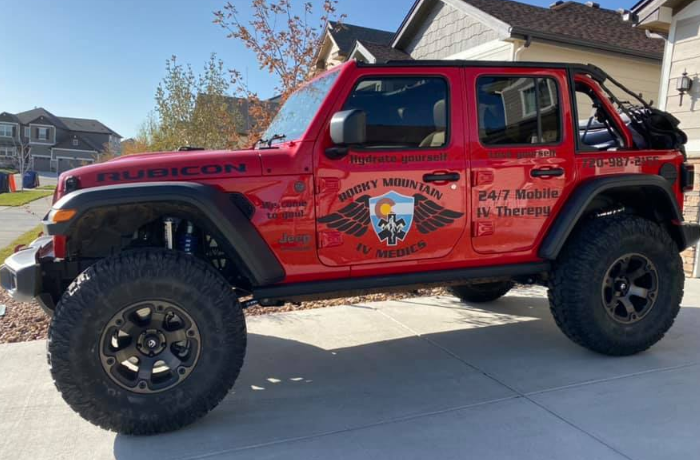 Morrison is a top destination in Colorado. You can explore Dinosaur Ridge, Bandimere Speedway, the Lariat Loop National Scenic Byway and the Morrison Natural History Museum, among other attractions. Plus, Morrison is close to everything Denver has to offer. You'll often find yourself on the go in this city, so you need to stay hydrated and healthy. 
Rocky Mountain IV Medics offers IV therapy in Morrison that supports your wellness goals. We bring our mobile drip IVs to the residential or commercial space of your choice, so you enjoy convenience and comfort. Our treatments ease symptoms of the flu, food poisonings, altitude sickness and so much more.
Don't hesitate to get the help you need. Contact us, and we will have a registered nurse or paramedic to the destination of your choice within an hour!
Uses of IV Rehydration
Therapy in Morrison
People of various ages can take advantage of IV therapy's benefits, from preteens to retirees. Rocky Mountain IV Medics works with patients ages 12 and older to tailor individualized treatment plans. IVs are customized to target specific health needs, whether that's muscle cramps or morning sickness. These replenishing fluids are optimal for addressing the many health concerns associated with dehydration.
Typical oral supplements or medications take time to work their way through the digestive system, which lessens their effectiveness. However, IV therapy works fast, as antioxidants, vitamins and minerals are administered right to the bloodstream for maximum absorption. We're the top choice in Morrison for IV therapy.
IV therapy can help with a wide range of issues!
How Much Does Mobile IV Therapy in Morrison Cost?
High-quality IV therapy is accessible in Morrison because we have a 20-mile service area around Denver. We'll help you find the treatment that works for you when you contact our team to book your appointment.
There are plenty of specialized IV packages to choose from, and they can be personalized with additional vitamins, supplements or medications. You'll enjoy affordable prices with Rocky Mountain IV Medics, where IV therapy in Morrison starts at $100. Our prices include all fees, so there are no surprises. And to top it off, you'll get even more benefits with our VIP program, which gives you exclusive access to deals and promotions.
Explore our treatment menu to see how each package can help you. One of the top picks is the best-selling Myers' Cocktail, with vitamin B12, magnesium and other ingredients that help fight fatigue.
How to Book a Mobile IV in Morrison
Give your body what it needs to function at its best. Rocky Mountain IV Medics serves Morrison and the surrounding Denver area with IV treatment that promotes vitality and vibrancy.

Contact us today to get started! Call (720) 987-2155, email us at contact@rockymountainivmedics.com or schedule an appointment online.
Book Now!
Serving Morrison & all suburbs!
Open 8AM-8PM, Sunday-Saturday