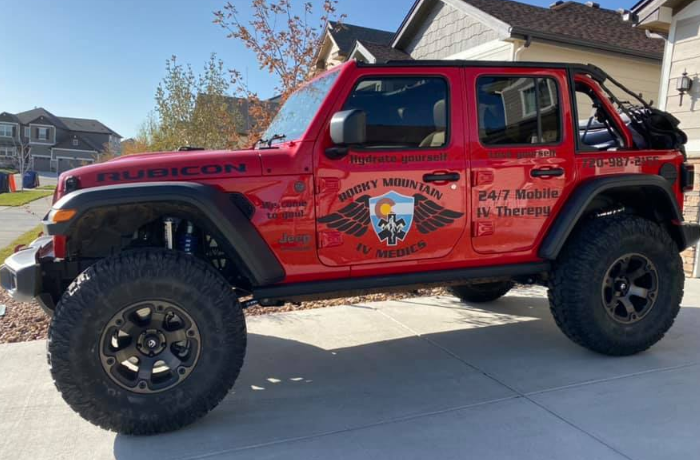 Morrison is a top destination in Colorado. You can explore Dinosaur Ridge, Bandimere Speedway, the Lariat Loop National Scenic Byway, and the Morrison Natural History Museum, among other attractions. Plus, Morrison is close to everything Denver has to offer, like the popular Red Rocks Amphitheatre, which is a can't-miss venue to see your favorite band in concert. You'll often find yourself on the go in this city, so you need to stay hydrated and healthy. 
Rocky Mountain IV Medics offers IV therapy packages in Morrison that support your wellness goals. We bring our mobile drip IVs to the residential or commercial space of your choice, so you enjoy convenience and comfort. Our treatments ease symptoms of the flu, food poisoning, altitude sickness, and so much more.
Don't hesitate to get the help you need. Contact us for mobile IV therapy in Morrison, CO, and we will do everything we can to have one of our medical professionals to the destination of your choice within an hour!
Feel Rejuvenated in Morrison, CO
Typical oral supplements or medications take time to work their way through the digestive system, which lessens their effectiveness. However, IV therapy works fast, as antioxidants, vitamins, and minerals are administered right to the bloodstream for maximum absorption. IV therapy is a top choice when you need to feel rejuvenated and rehydrated, and we're the top choice for IV vitamin therapy in Morrison, CO.
Sometimes, you need an IV to alleviate symptoms caused by illness or a chronic medical condition. Or, you may want to book regular IV infusions when you need maximum hydration as part of your athletic training or to consistently support a vibrant, energetic sense of well-being. In Morrison, IV therapy can do all that and more!
Our IV treatments are customized to target specific health needs, whether that's muscle cramps or morning sickness. These replenishing fluids are optimal for addressing the many health concerns associated with dehydration. But infusions can also help with a wide range of other issues. These include:
Who Is Eligible for IV Therapy in Morrison?
People of many ages can take advantage of IV therapy's benefits, from preteens to retirees. Rocky Mountain IV Medics works with patients ages 10 and older to deliver personalized mobile IV therapy in Morrison, CO. 
We pride ourselves on exceptional patient care and will take the time to listen to your concerns so we can provide you with the best possible IV vitamin infusion in Morrison, CO. You're in good hands with Rocky Mountain IV Medics.
How Much Does an IV Drip Cost in Morrison?
High-quality IV therapy is accessible in Morrison because we have many locations we serve around Denver. We'll help you find the IV package that works for you when you contact our team to book your appointment. Our team is experienced in IV therapy and uses that knowledge to pinpoint the ingredients and packages that can deliver optimal results.
There are plenty of specialized IV packages to choose from, and they can be personalized with additional vitamins, supplements, or medications. You'll enjoy affordable pricing packages with Rocky Mountain IV Medics, where IV therapy in Morrison starts at $100 with the Purely Saline package. And to top it off, you'll get even more benefits with our VIP program, which gives you exclusive access to deals and promotions.
Explore our treatment menu to see how each package can help you. One of the top picks is the best-selling Myers' Cocktail, with vitamin B12, magnesium, and other ingredients that help fight fatigue. We've also developed specialized packages for everything from athletic conditioning to hair, skin, and nail support. And most of our vitamin infusions in Morrison, CO, can be personalized with additional supplements or medications, starting at just $25 each:
Supplements
Amino Acid Blend
B Complex vitamins
Vitamin C
Vitamin B12 (methylcobalamin)
Glutathione
Zinc
Magnesium
Biotin
L-Carnitine
Taurine
Medications
Benadryl (diphenhydramine)
Pepcid (famotidine)
Reglan (metoclopramide)
Toradol (ketorolac)
Zofran (ondansetron)
Enjoy effective and affordable mobile IV therapy in Morrison, CO, with Rocky Mountain IV Medics.
How to Book a Mobile IV in Morrison
Give your body what it needs to function its best. Rocky Mountain IV Medics serves Morrison and the surrounding Denver area with IV treatments that promote vitality and vibrancy. Schedule online to book an appointment in Morrison today!
Book Now!
This is the 1st item
This is the 2nd item
Serving Morrison & all suburbs!
Open 8AM-8PM, Sunday-Saturday
FAQs
1
Can I get IV fluids at home?
You can with Rocky Mountain IV Medics! We provide mobile IV therapy in Morrison, CO, that comes to your home, as well as your office, hotel room, gym, and many other convenient locations. We bring the equipment; all you need is a comfortable place where you can relax for 45 to 60 minutes during an infusion session. Mobile IV service is ideal when you're too sick to travel to an urgent care center or emergency room. Plus, our daily service hours make it easy to book an appointment that fits your schedule, even on nights and weekends.
2
How long does IV hydration therapy last?
The powerful vitamins and minerals in our IV fluids will make you feel great for a while. However, the exact amount of time depends on many variables, such as your current health condition, any symptoms you're experiencing, your activity level, and other factors. Our knowledgeable team members will discuss your individual situation with you to determine the best IV package for your needs.
3
Do you tip for IV therapy?
You can tip for your IV infusion if you want to acknowledge a job well done. Our medical professionals work diligently to provide exemplary service and patient care. Learn more about our team and why we're the best at IV therapy in Morrison.
4
Is IV hydration good for you?
IV fluids are an excellent source of superior hydration. These fluids are sterile solutions filled with electrolytes, so they're incredibly effective at replacing lost bodily fluids caused by dehydration or related medical conditions. And unlike other oral hydrating solutions, IV fluids can contain a precise blend of vitamins and minerals that support your wellness. You can even add medications to address certain issues, such as nausea or short-term pain. And the infusions go straight to the bloodstream for rapid, maximum absorption of those much-needed fluids. If you need IV hydration fast, contact us for mobile IV therapy in Morrison.
5
Can I purchase IV fluids online?
No, you should never buy your own IV fluids. Only licensed and highly trained professionals are allowed to administer IV infusions. Also, when you purchase IV fluids online, you don't have any assurance that you're getting a quality product that will support your well-being. That's why you can rely on Rocky Mountain IV Medics to deliver IV fluids with medical-grade ingredients as part of our IV therapy in Morrison, CO.
6
Will my health insurance cover IV therapy?
We do not accept insurance for mobile IV therapy treatment in Morrison. You have several payment options to choose from, including cash, check, or debit or credit card. You may also be able to use your HSA or FSA to pay for IV vitamin therapy in Morrison, CO. Contact us to learn more.