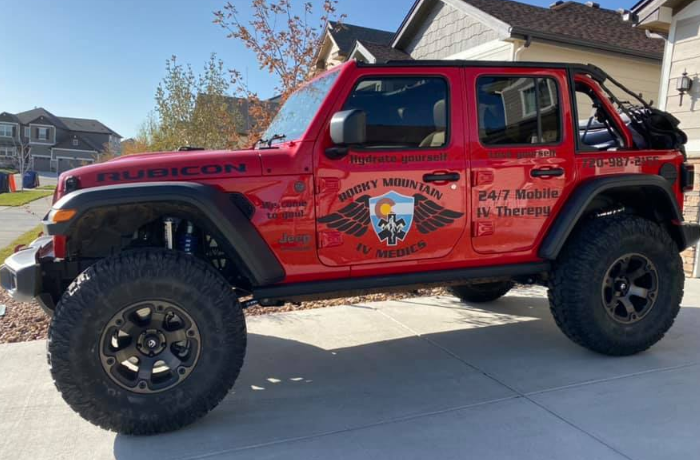 Peyton is a short drive from all the attractions of Colorado Springs, but the drive may not seem that short if you're not feeling well and need treatment to get your health back on track. Mobile IV therapy can help whether you're trying to recover from an illness, a hangover, food poisoning, or other medical conditions.
Call on Rocky Mountain IV Medics for high-quality IV therapy in Peyton. Our team brings you fast, effective relief with our IV infusions. You no longer have to worry about traveling for treatment because you can get symptom relief in your home or other convenient location. That way, you can take advantage of all the adventures available in the area as you enjoy the breathtaking Colorado scenery by jeep, zipline, or even an ultralight glider tour.
Uses of IV Rehydration
Therapy in Peyton
Dehydration is one of the most common health issues. You can get dehydrated by spending too much time outdoors in a hot climate and during intense workouts. But dehydration can also be a side effect of an illness or chronic medical condition.
The problem with dehydration is that your body loses the vitamins, minerals, and electrolytes it needs to function at its best. Prolonged dehydration can also cause serious health issues if left unchecked. That's why it's important to replenish those lost fluids as quickly as possible, and IV therapy is the most effective way to get the job done. 
We help patients 10 years and older find the IV treatment for their needs. We offer several types of IV therapy in Peyton targeting:
IV therapy can help with a wide range of issues!
IV Therapy for the Home or Office
Relax in familiar, comfortable surroundings during your treatment with Rocky Mountain IV Medics. Our team meets the highest standards of safety and patient care for vitamin infusions in Peyton. Each session begins with a check of your vital signs and a review of your healthcare concerns. Our trained medical professionals monitor you throughout the infusion to ensure everything goes smoothly. 
We also pride ourselves on providing the highest-quality fluids and ingredients in our drip bags. We have several to choose from, including the popular Myers' Cocktail that fights fatigue by supplying your body with much-needed energy. You can also customize your IV with supplements or medications. 
We offer competitive pricing packages from $100 to $395; you can add extra vitamins to your IV for $25 each. There are additional costs for add-on items and custom packages. Join our VIP program and be the first to know about special deals and promotions.
Schedule Mobile IV Therapy in Peyton
Experience the benefits of IV therapy with Rocky Mountain IV Medics. There are many locations we serve throughout Colorado for your convenience. Schedule online to get IV vitamin therapy in Peyton, CO, and rest easy—help is on the way.
Book Now!
This is the 1st item
This is the 2nd item
Serving Peyton & all suburbs!
Open 8AM-8PM, Sunday-Saturday
FAQs
1
How long does IV therapy last?
Most people report feeling better almost immediately after their infusion ends. Those positive benefits can last for several days, but the specific length of time varies by individual. Health status, IV ingredients, and how fast your body metabolizes those ingredients are among the factors that determine how long the effects of IV therapy will last. If you need IV therapy in Peyton, we can set up an infusion schedule tailored to your needs.
2
Is IV hydration good for you?
Yes, the fluids in an IV bag are sterile solutions rich in electrolytes that your body needs for optimal function. So IVs are ideal when you need to replenish lost fluids due to dehydration, illness, or other health issues. Additionally, you can add vitamins, minerals, and medications to the fluids, which go into the bloodstream for rapid absorption and maximum effect. And with mobile IV therapy in Peyton, you can get IV hydration when and where it's most convenient for you.
3
How many IVs do you need for dehydration?
This isn't necessarily a one-size-fits-all answer. The number of IV infusions you may need depends on your weight and how dehydrated you are. Some people may be fine with one IV infusion and drinking extra water, while others may need additional treatments. The root of your dehydration may also play a role. For instance, you may get a different treatment for a hangover than you would for recovery from a grueling athletic event.
4
Can you get IV fluids at home?
Mobile IV therapy gives you the opportunity to get an infusion at your home (or your office, hotel room, or other location!). A trusted provider like Rocky Mountain IV Medics will bring all the necessary IV equipment, and your infusion will be administered by an experienced medical professional who is qualified to perform at-home IV treatments. Home infusions are ideal if you're sick and can't travel for care or you need to fit treatment into your busy schedule in the evenings or on weekends. Call us for your IV vitamin therapy in Peyton, CO.