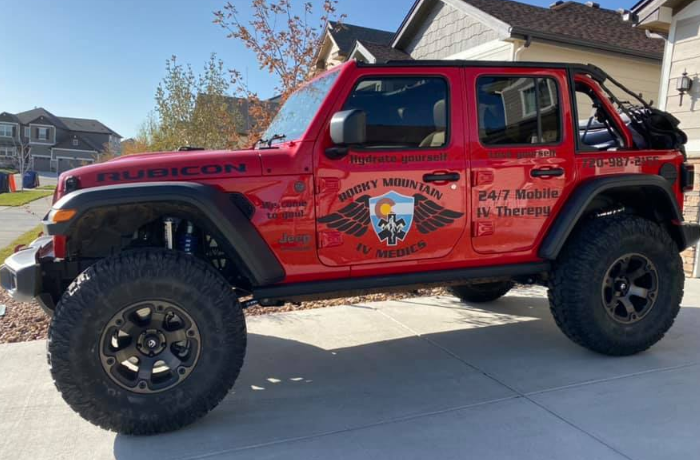 Peyton is a short drive from all the attractions of Colorado Springs, but the drive may not seem that short if you're not feeling well and need treatment to get your health back on track. Mobile IV therapy can help whether you're trying to recover from an illness, a hangover, food poisoning, or other medical conditions.
Call on Rocky Mountain IV Medics for high-quality IV therapy in Peyton. We bring fast, effective relief with our IV infusions. You no longer have to worry about traveling for treatment because you can get symptom relief in your home or other convenient location. Contact us today to experience the best mobile IV therapy in Peyton.
Uses of IV Rehydration
Therapy in Peyton
Dehydration is one of the most common health issues. You can get dehydrated by spending too much time outdoors in a hot climate and during intense workouts. But dehydration can also be a side effect of an illness or chronic medical condition.
The problem with dehydration is that your body loses the vitamins, minerals, and electrolytes it needs to function at its best. Prolonged dehydration can also cause serious health issues if left unchecked. That's why it's important to replenish those lost fluids as quickly as possible, and IV therapy is the most effective way to get the job done. 
We help patients 12 years and older find the right IV solution for their needs. We offer several treatment packages targeting:
IV therapy can help with a wide range of issues!
IV Therapy for the Home or Office
Relax in familiar, comfortable surroundings during your treatment with Rocky Mountain IV Medics. Our team meets the highest standards of safety and patient care. Each session begins with a check of your vital signs and a review of your healthcare concerns. Our trained medical professionals monitor you throughout the infusion to ensure everything goes smoothly. 
We also pride ourselves on providing the highest-quality fluids and ingredients in our drip bags. We have several to choose from, including the popular Myers' Cocktail that fights fatigue by supplying your body with much-needed energy. You can also customize your IV with supplements or medications. We offer competitively priced packages from $100 to $395; you can add extra vitamins to your IV for $25 each. There are additional costs for add-on items and custom packages. Join our VIP program and be the first to know about special deals and promotions. 
Schedule Mobile IV Therapy in Peyton
Experience the benefits of IV therapy with Rocky Mountain IV Medics. We have locations throughout Colorado to serve you. Book an appointment online and rest easy—help is on the way.
Book Now!
This is the 1st item
This is the 2nd item
Serving Peyton & all suburbs!
Open 8AM-8PM, Sunday-Saturday