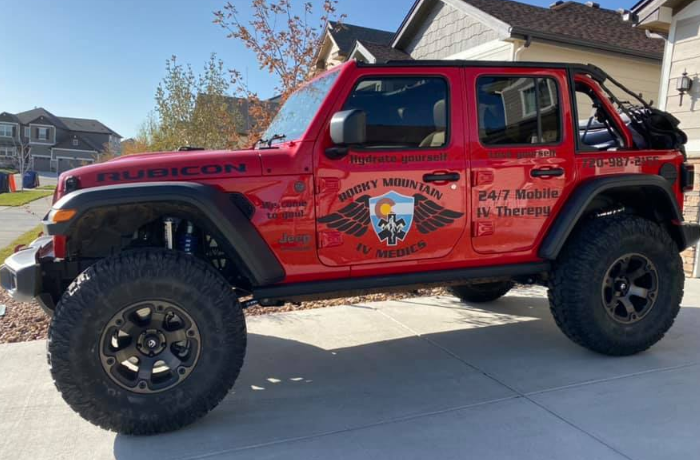 There is so much to explore in Woodland Park, from nearby Pikes Peak and the Rocky Mountain Dinosaur Resource Center to the city's fine craft breweries. Enjoy it all with the sense of well-being and vitality that comes from IV therapy. 
Rocky Mountain IV Medics provides IV therapy in Woodland Park to offer symptom relief, boost energy and immune support, enhance athletic performance, and much more. Our infusions are performed by our team of trained paramedics and registered nurses who are committed to the highest standards of safety and patient care. With our mobile IV therapy, Woodland Park residents enjoy a fast and effective treatment in their home or office. Contact us today to learn more about the benefits of IV therapy.
Uses of IV Rehydration
Therapy in Woodland Park
IV therapy replenishes your body when it's dehydrated. These IV fluids—packed with vitamins, minerals, and electrolytes—work quickly because they go straight to the bloodstream, unlike oral medications that pass through the digestive system first.
Rocky Mountain IV Medics has several IV treatments designed to help patients 10 years and older with many ailments:
IV therapy can help with a wide range of issues!
IV Therapy for the Home or Office
Our team can help you pick the right IV for your specific needs. Our affordable pricing packages range from $100 to $395, with additional vitamins for $25 each. There are extra costs for add-on items and custom packages. Join our VIP program to get exclusive deals and promotions, on top of our reasonable prices, for even more savings.
Schedule Mobile IV Therapy in Woodland Park
We have several convenient locations throughout Colorado. Schedule an appointment online to experience all that IV therapy has to offer.
Book Now!
This is the 1st item
This is the 2nd item
Serving Woodland Park & all suburbs!
Open 8AM-8PM, Sunday-Saturday
FAQs
1
Are IV drips worth the money?
An IV infusion is a valuable health tool. IV therapy in Woodland Park can help you feel better faster when you are sick, or keep you feeling healthy year-round, so you don't miss too much time off work. And Rocky Mountain IV Medics keeps costs low, so you don't have to worry about unreasonable extra fees. We offer IV vitamin therapy in Woodland Park that is accessible, affordable, and effective.
2
How much do IVs usually cost?
The cost often depends on the type of IV, the ingredients in the drip bag, and the IV provider's fee structure, among other factors. Some companies offer IVs that are close to $500, and that's before any extra personalization or service charges are added into the final price. Clients appreciate Rocky Mountain IV Medics because we plainly state how much we charge for infusions (between $100 and $395) without hidden fees. You can trust us for top-notch treatments and service when you schedule your mobile IV therapy in Woodland Park.
3
How long does IV infusion therapy last?
Many people report feeling the positive effects of vitamin infusions in Woodland Park almost immediately after the 45-60 minute treatment session ends. From there, you may feel the effects of IV therapy for days after, but the specific amount of time is different for each individual patient. That's because there are many factors involved, such as your overall health, the ingredients in the IV bag, how long it takes your body to metabolize and excrete the ingredients, and more. We're happy to answer any of your questions; just get in touch with us today!
4
What are the disadvantages of IV therapy?
IV therapy is very safe, but it does carry some rare risks, namely the possibility of temporary bruising, rash, or infection at the site of the IV injection point on your arm. In extreme cases, a collapsed vein or air embolism may occur, but those instances are very unusual. Aside from that, IV therapy is a common, reliable health tool used for a variety of medical conditions. The team members at Rocky Mountain IV Medics are experts in IV infusions and strive to provide you with the safest possible experience.