Rocky Mountain IV Medics has packages designed to alleviate almost any symptom. Whether you want to rehydrate after a marathon or need the flu-fighting power of our Myers' Cocktail, we have an IV therapy solution to get you back on your feet. Our IV therapy cost ranges from $100 to $395. Our treatments are both fast and affordable.
Special: Regularly $225 - Now $195!
Our Myers' Cocktail IV hydration package is our best-selling package. Customers rave about the Myers' Cocktail helping them to alleviate symptoms of numerous illnesses and ailments.
This package features 6 of our highest-impact vitamins, minerals and antioxidants. The Myers' Cocktail is a natural boost for your immune system and can give you a burst of energy to stop you from feeling sluggish. This package is what we recommend for everything from hangovers to fatigue to the flu. It can even be used for recovery from an althletic event or chronic illnesses. The blast of vitamins and hydration can help with skin health and aid your weight loss regimen.
ULTIMATE MYERS' COCKTAIL
$295
Our premium package for those who tell us "give me the best you got." This package offers our highest-dose of Vitamin C and Glutathione. Customers who have got the Ultimate Myers' Cocktail have not been disappointed. With 5000mg of Vitamin C and 1000mg of Glutathione, this package has been noted to knock out the symptoms of even the toughest flus or hangovers and also to boost overall energy levels and alertness.
For those looking for high-doses of vitamin C to help with deficiencies that are common with POTS syndrome, the common cold, and more, this is our highest dosage available.
HAIR, SKIN, and NAILS
$275
The HAIR, SKIN and NAILS package is designed to deliver ingredients that help promote healthy hair and nail growth, while also combating oxidative stress caused by free radical to give your skin a youthful glow.
Start feeling better today!
The RESTORE package is designed to aid the body through increased energy and oxidation of fat, all while minimizing muscle loss, supporting exercise performance and aiding in the reduction of post workout recovery times.
Start feeling better today!
Packed with Vitamin C, Vitamin D and Zinc to help your body feel better when experiencing illness symptoms. The Immune IV was crafted for those that are feeling a bit under the weather from a cold or flu but is also great to help anyone who might be feeling a little under the weather! Hydration is key for your body to fight and overcome any type of sickness.
Start feeling better today!
High performance and intense workout approved! The Performance Plus IV puts together the essentials that your body needs pre or post workout. We recommend trying this IV if you are an athlete or just simply going to be highly active during the day. The IV includes Saline, B Complex, B12, Taurine and NAD+.
Bring your performance to it's highest level you never thought possible!
NAD+ is known for it's potential anti-aging and addiction treatment benefits. NAD+ is a coenzyme that occupies almost every cell in your body. The primary purpose of NAD+ is to fuel metabolic reactions by enabling your mitochondria, or your cells power stations that convert food to energy. NAD+ can help you overcome fatigue, aid with cell regeneration, and maximize brain function.
This Premium package is good for Rapid Rehydration, Hangover, Cyclic Vomiting Syndrome, food poisoning, and more
Vitamin C and Glutathione provide antioxidants to help with physical and mental recovery.
For when you need to get those Demons out of you.
The GOLD hydration package is an IV that includes 2 add-ins of your choice. This package is recommended for everything from nausea to pain to food poisoning to mild hangovers. With this packages you can choose any additional 2 vitamins, antioxidants, or medicines we offer on the bottom of this page in the "vitamin add-ins" section.
The gold package comes standard with b vitimans and 1000cc of saline and is our second highest selling packge. Our team of trained medical professionals can help you determine what add-ins you should get, alongside helping with recommendations of what package will be most cost-effective for you to get feeling better.
The SILVER Package is typically recommended for headaches, the cold or flu, or one too many drinks the night before. PH balanced fluids and B-Complex come with this package and you have the choice of one add-in as well. Typically anti-nausea or analgesic (non-narcotic pain reliever) are used as the medication with the silver package.
If deep hydration and a medicine is what you need to alleviate your symptoms, the silver package is for you. This package is also commonly used for nausea, pain, recovery and body aches. Our team can help you decide what add-in will be best for your symptoms if you want to schedule a silver package IV drip.
Get hydrated as efficiently as posible with our BRONZE Package. The bronze package can give you a little extra boost of energy and hydration for an upcoming athletic event, a day in the sun, a bachelor party, moving to a new home, or even a bad nights sleep. This is the most affordable IV we offer with the exception of just getting normal saline.
Purely Saline is our cheapest in-home IV. This is designed for patients who need to get hydrated, but do not want additional vitamins or medicines. Many suffer from allergies or medical conditions that get this package. If you just need pure fluids for hydration and nothing else, this package is designed for you.
IM Injections
$
35
per injection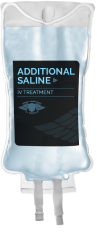 Additional Saline (1L)
$
50
Fast
IVs are highly efficient with an immediate effect
Affordable
Mobile IV services cost less than a hospital visit
Effective
IVs deliver nutrients right where they can do the most good
Convenient
Save time by avoiding the hospital waiting room.
1
Do You Accept Insurance?
Not at this time. With Insurance Company's long and complex approval processes, they have made the coverage of IV therapy cost-prohibitive. By not accepting insurance, Rocky Mountain IV Medics can keep prices low and service convenient. We try to keep our prices below that of a typical copay or deductible with insurance, making coming to us directly likely costing less than a hospital or urgent care visit and way more convenient.
Yes, for groups:
10% off for 4-9 patients
15% off for 10-19 patients
20% off for 20+ patients
3
Do You Charge Sales Tax?
No. Our CPA has confirmed that the medical services we provide, do not have to charge sales tax.
1
Do You Charge Travel Fees?
No. There are no fees if you're located within our
service area
. If you don't see your service area listed, please absolutely call! Our Paramedics may still be able to get to you, we strive to treat every patient we can and if demand is large enough, will attempt to grow to your area ASAP.
2
Do You Have A Minimum Order?
Yes. Our team will not travel for orders of less than $100. For B12 shots, just gather a few friends and we'll be happy to make the trip!
Yes. Our IV treatment services are HSA approved.
Yes. Our team accepts and appreciates tips but not required. Thanks!
2
Do You Travel After Hours?
Yes. We offer 24-hours services, but additional fees may apply. Our normal operating hours are 8am-8pm every day. Outside of those hours are subject to availability and may include an "after hours" fee.
3
What Are My Payment Options?
Rocky Mountain IV Medics will accept all major credit cards, debit cards, cash, Venmo, PayPal and Zelle.