You can spend your days in Carbondale exploring the great outdoors in your favorite way: hiking, whitewater rafting, mountain biking, and so much more. At night, the lively farm-to-table restaurant scene gives you plenty of options for great food and cocktails. But you may feel the after-effects of active days (and fun-filled nights). That's when you need IV therapy in Carbondale from Rocky Mountain IV Medics. 
We provide you with fast, responsive mobile service at the location of your choice, typically within an hour of you contacting us. Our medical professionals are experts in IV infusions, whether it's at your home, office, or hotel room (learn more about our team). Try outstanding mobile IV therapy in Carbondale when you book an appointment with Rocky Mountain IV Medics today!
The CO Drip
Our best selling IV drip in Denver is the Myers' Cocktail IV. The Myers' Cocktail is one of the most famous iv therapy packages in the world for one reason - it helps people feel better by alleviating symptoms of numerous ailments. This IV package costs $175 for in-home service. It has the vitamins, antioxadants, and eletrolytes needed to help you feel better from illnesses, hangovers, and more!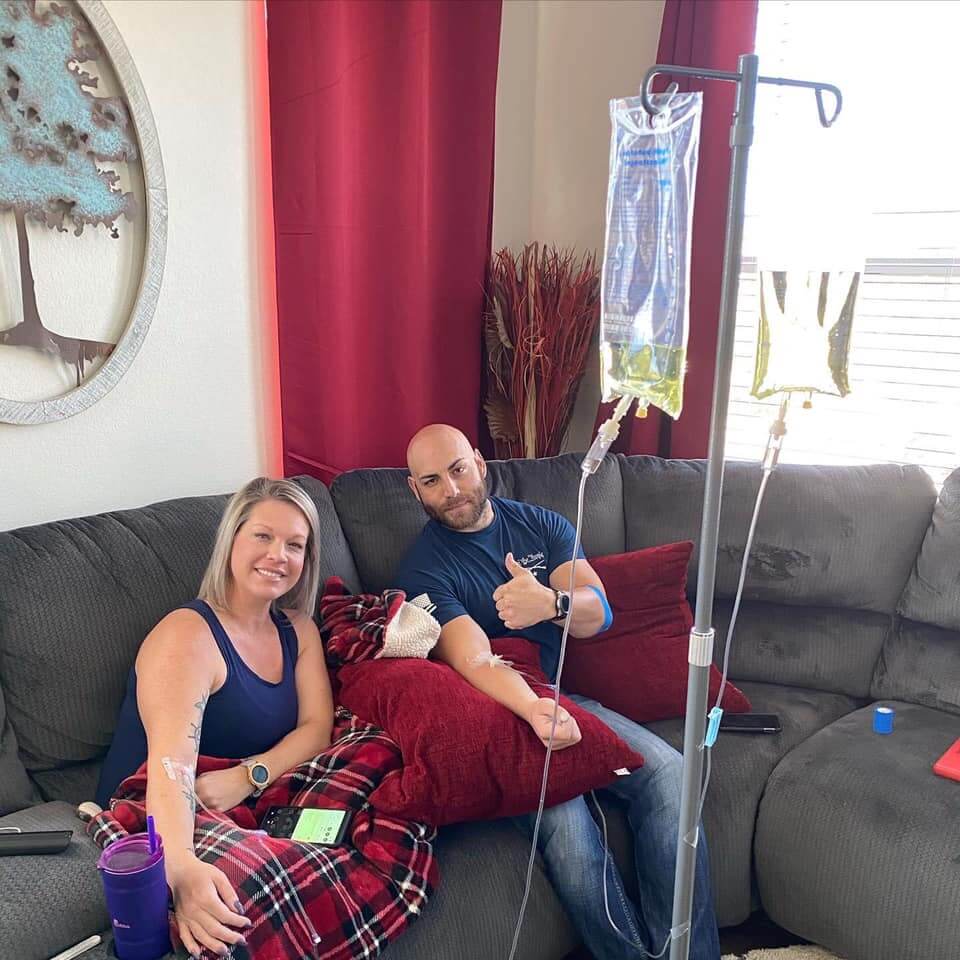 Feel Rejuvenated in Carbondale, CO
In Carbondale, IV therapy provides quick, noticeable results that you can't always get with an oral supplement or medication. That's because those solutions travel through the digestive system, losing potency along the way. Our high-quality IVs recharge you with powerful vitamins and minerals that enter the bloodstream immediately, for maximum absorption. 
Plus, IV therapy is incredibly versatile. We've got a variety of IV therapy packages that can be used in many ways. Try IV therapy for:
Dehydration
Colds, flu, and other illnesses
Jet lag
Hangovers
Altitude sickness
Morning sickness
Athletic training
Anti-aging regimens
Weight-loss support
Migraines, allergies, and other chronic medical conditions
Trust Rocky Mountain IV Medics for your IV therapy in Carbondale.
Who Is Eligible for IV Therapy in Carbondale?
We provide IV treatments to patients age 12 and older or who weigh at least 100 pounds. How can our mobile IV therapy in Carbondale, CO, help you? You can:
Get fast symptom relief from food poisoning or the flu.
Rehydrate your body after a day of fun and sun.
Recuperate with less painful effects from a night of partying.
Enhance your overall health with IV treatments that slow signs of aging in the mind and body.
Manage the painful symptoms of a migraine.
Plus much more!
We've got the right IV treatment for you, no matter your health needs. Plus, we can personalize your drip IV bag with a customized formulation of vitamins, minerals, supplements, or medications. We take the time to get to know you to make effective recommendations for optimal results.
How Much Does an IV Drip Cost in Carbondale?
Our affordable treatment menu features affordable IV packages, which include travel fees to your location. Payment is simple, with just the swipe of a major credit card. 
With Rocky Mountain IV Medics, you get:
Prompt treatment in the many locations we serve.
Experienced care from paramedics and registered nurses.
Medical-grade ingredients like those used in hospitals and doctor's offices.
High standards of safety and patient care.
This is the 1st item
This is the 2nd item
Serving Denver & all suburbs!
Open 8AM-8PM, Sunday-Saturday
Schedule an In-Home IV Therapy Appointment with Rocky Mountain IV Medics
Enjoy the best of Colorado in Carbondale. Book an appointment for mobile IV therapy in Carbondale, CO, today.