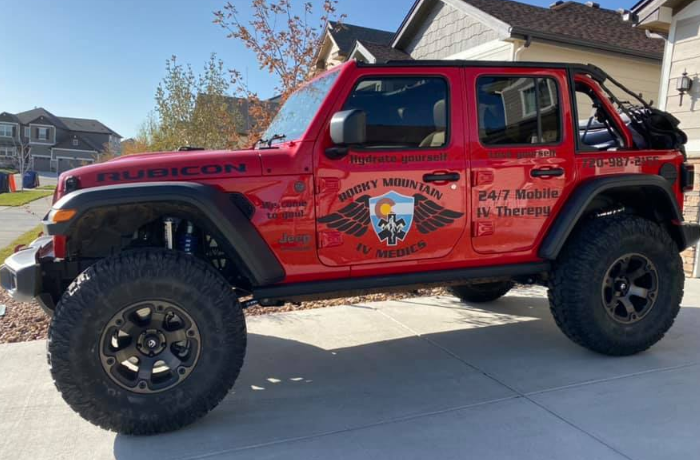 Parker, Colorado, is a charming town that makes everyone feel at home. There are plenty of lively community events held throughout the year that bring people together, such as the annual Arbor Day Celebration, Skate and Climb Night and the many seasonal 5K/10K races. You need to stay healthy to enjoy all the hometown fun, though, so optimize your wellness with IV therapy in Parker offered by Rocky Mountain IV Medics. 
We specialize in mobile IV therapy. Our registered nurses and paramedics perform treatments in homes and commercial spaces throughout the Denver area. These drip IVs alleviate symptoms associated with illnesses, altitude sickness, migraines and much more. In Parker, IV therapy is made easy when you schedule a treatment with Rocky Mountain IV Medics. 
Ready to try it for yourself? Contact us, and we'll have one of our medical professionals at your address within an hour!
Uses of IV Rehydration
Therapy in Parker
Our mobile IV therapy in Parker provides rapid symptom relief for dehydration, which can be caused by everything from sickness to intense sports workouts. IVs are incredibly effective because they deliver antioxidants, vitamins and minerals into the bloodstream. Oral supplements and medications, on the other hand, don't absorb as quickly in the digestive system.
People of all ages find IV therapy useful. Rocky Mountain IV Medics has the expertise to treat patients ages 12 and older with customized packages that address varied health needs. Want to manage the effects of flu, food poisoning, muscle cramps or other issues? We can get you the comfort you need.
IV therapy can help with a wide range of issues!
How Much Does a Mobile IV in Parker Cost?
It's easy to access high-quality IV therapy with Rocky Mountain IV Medics. We serve the greater Denver metropolitan area with the convenience of mobile treatment, eliminating the need to wait in line for IVs elsewhere. Schedule an appointment with us and take the first step toward feeling better.
We offer a comprehensive lineup of drip IV packages. Try the best-selling Myers' Cocktail, which reduces fatigue with a special blend of ingredients, such as vitamins C and B12, zinc and magnesium. We also have a wide-ranging list of add-on vitamins you can incorporate into your IV for customized treatment. Our experienced team members will help you select the right treatment to get you the results you want. What's more, all of our IVs are priced affordably, starting at $100, with no hidden fees or costs. You'll enjoy even more savings when you join our VIP program, which offers exclusive access to special deals and promotions. 
How to Book a Mobile IV in Parker
Give yourself and your health a boost with the best IV therapy in Parker. Rocky Mountain IV Medics delivers the fluids and nutrients your body needs with our fast, responsive service. Experience a vibrant sense of well-being that helps you get the most out of life. 

It's easy to contact us for an appointment. Just call 720-987-2155 or book a treatment through our online scheduling form. We're ready to help you!
Book Now!
Serving Parker & all suburbs!
Open 8AM-8PM, Sunday-Saturday