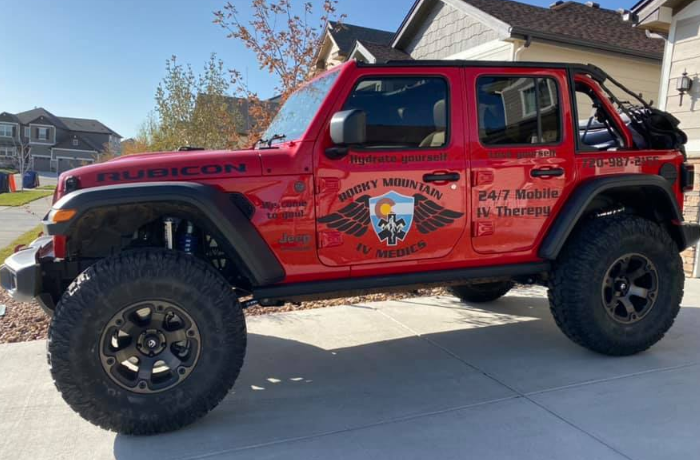 People come to Littleton, CO, for a combination of outdoor activities, entertainment, and delicious restaurants. Residents of this area are always going on hiking adventures or long bike rides, as there are lots of private tours you can book for a group of friends or the entire family. Whether you're spending the day at Deer Creek Canyon Park or looking to check out the incredible craft beer scene, it's crucial to stay hydrated for your health and well-being. If you get dehydrated, you can feel better fast with IV therapy in Littleton.
Rocky Mountain IV Medics is a mobile therapy service that specializes in treatments to alleviate symptoms surrounding dehydration, as well as colds, migraines, morning sickness, and more. And one of the great things about our team of paramedics and nurses is that they can create original IV drips to prepare you for long days in the sun, flu season, and even athletic events.
We serve a 20-mile radius around Denver to help our clients cope with illness, muscle aches, and exhaustion. We separate ourselves from local IV bars and medical facilities by providing at-home treatments for your convenience. See what we can do for you by giving us a call for convenient, high-quality mobile IV therapy in Littleton!
Applications of IV Rehydration
Therapy Near Littleton, CO
Dehydration is linked to a number of symptoms that cause discomfort. Our goal at Rocky Mountain IV Medics is to bring clients cost-friendly treatments that deliver powerful vitamins, minerals, and antioxidants to the bloodstream. While oral medications have to pass through the digestive system before making a difference, our IVs are administered into the bloodstream for immediate uptake.
Treatments from Rocky Mountain IV Medics are suitable for ages 10 and up. We frequently use our IV drips to help support the immune system, prepare the body for exercise, and assist with post-workout recoveries. Our paramedics walk you through our process and listen to the details surrounding your symptoms to come up with a treatment plan.
IV therapy can help with a huge range of issues!
Weight loss operations
Food poisoning
Long-term illnesses (including cancer)
Altitude sickness
Muscle fatigue
Nausea
If you're in Littleton, IV therapy is easy with Rocky Mountain IV Medics. We'll help you find the right drip bag to meet your health needs.
How Mobile IV Nurses Makes a Difference in Littleton

Call on us for mobile IV therapy in Littleton after you:

Kayak the South Platte River: A day on the water under the hot sun can leave you feeling dehydrated. IVs rehydrate quickly to ease symptoms such as fatigue and headaches.

Hike among the red rock formations at Roxborough State Park: The gorgeous scenery can leave you breathless—and so can the vigorous physical activity. IV fluids help the body recover by alleviating symptoms associated with intense exercise like muscle aches and pains.

Enjoy the nightlife in the Main Street Historic District: IV fluids help minimize hangover symptoms if you had a little too much fun at the local bars.

Rehydration Treatments for the Home and Office

Rocky Mountain IV Medics will save you time and effort with treatments designed for the home and office. The days of driving out to IV bars are in the past, as we arrive at your residential or commercial space with our own equipment. We are completely mobile and send out paramedics within an hour of your initial call.

Our clients benefit from competitive pricing, with treatments available from $100 to $395. If you are unsure where to begin, our Myers' Cocktail package is one of our best-selling treatments, as it's packed with vitamin B12, B Complex vitamins, vitamin C, glutathione, magnesium, and zinc. We can also recommend rehydration therapy based on your current symptoms and lifestyle.

Our paramedics check your vital signs prior to treatment, and we can coordinate vitamin add-ins for $25 a piece. This expert, personalized service and attention to detail are why patients rely on us for mobile IV therapy in Littleton, CO.

Kickstart Your Rehydration IV Treatments Today
Rocky Mountain IV Medics is your go-to source for professional IV drip therapy. We help you get back on your feet in no time with the ability to restore fluids, vitamins, minerals, and electrolytes in the body. If you are looking for rehydration IV therapy in Littleton or any of the other locations we serve, give us a call at 720-987-2155 or fill out our contact form online to book an appointment in Littleton.
Book Now!
This is the 1st item
This is the 2nd item
Serving Littleton & all suburbs!
Open 8AM-8PM, Sunday-Saturday
FAQs
1
How does IV therapy work?
First, we work with you to find a personalized treatment with a specific formula of vitamins, minerals, and other supplemental ingredients in the IV fluids. To start the infusion, we gently insert the catheter for the IV line into a vein in your arm and then attach the line to a drip bag. The IV fluids "drip" down the line and into your vein so they enter the bloodstream right away. Your body fully absorbs these powerful ingredients, which is why many people report feeling results soon after treatment. Once the infusion ends, we'll place a small bandage on the insertion point after the drip line is removed from your arm, and you can go on with your normal schedule. The entire appointment takes 45 to 60 minutes.
2
How long do the effects of IV therapy last?
This answer is different for each patient as it depends on many factors, such as their current state of health, the type of IV they get, and how their body metabolizes the IV fluids.
3
How often should I get IV therapy?
This depends on why you're getting IV therapy. For instance, some people may need an infusion only occasionally when they have the flu or altitude sickness, while other people need IV therapy to help manage symptoms during flare-ups of chronic medical conditions such as allergies or migraines. Some people even get on a regular cycle of IV therapy for wellness support or athletic conditioning. Talk to us about how our Littleton IV therapy services can help you.