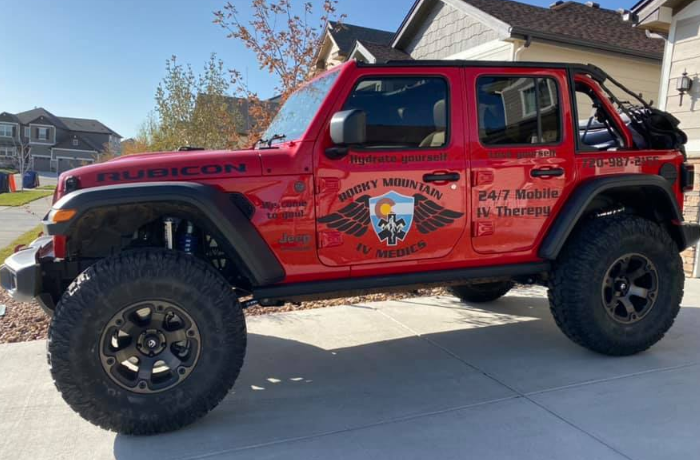 People come to Littleton, CO, for a combination of outdoor activity, entertainment and delicious restaurants. Residents of this area are always going on hiking adventures or long bike rides, as there are lots of private tours you can book for the entire family. Whether you're spending the day at Deer Creek Canyon Park or you want to check out the incredible craft beer scene, it's crucial to stay hydrated for your health and well-being.
Rocky Mountain IV Medics is a mobile therapy service that specializes in treatments to alleviate symptoms surrounding colds, migraines, morning sickness and more. Our team of paramedics creates original IV drips to prepare you for long days in the sun, flu season and even athletic training events.
We serve a 20-mile radius around Denver to help our clients cope with illness, muscle aches and exhaustion. We separate ourselves from local IV bars and medical facilities by providing at-home treatments for your convenience. See what we can do for you by giving us a call!
Applications of IV Rehydration Therapy Near Littleton, CO
Dehydration is linked to a number of symptoms that cause discomfort. Our goal at Rocky Mountain IV Medics is to bring clients cost-friendly treatments that deliver vitamins, minerals and antioxidants to the bloodstream. While oral medications have to pass through the digestive system before making a difference, our IV methods are direct for immediate uptake.
Treatments from Rocky Mountain IV Medics are suitable for ages 12 and up. We frequently use our IV drips to help boost the immune system, prepare the body for exercise and assist with post-workout recoveries. Our paramedics walk you through our process and listen to the details surrounding your symptoms to come up with a treatment plan.
Our custom packages work to reduce symptoms involving:
IV therapy can help with a huge range of issues!
Weight loss operations
Food poisoning
Long-term illnesses (including cancer)
Altitude sickness
Muscle fatigue
Nausea
Rehydration Treatments for the Home and Office
Rocky Mountain IV Medics will save you time and effort with treatments designed for the home and office. The days of driving out to IV bars are in the past, as we arrive at your residential or commercial space with our own equipment. We are completely mobile and send out paramedics within an hour of your initial call.
Our clients benefit from competitive pricing with treatments available from $100 to $395. If you are unsure where to begin, our Myer's Cocktail package is one of our best-selling treatments, as it's packed with Vitamin B12, Vitamin B and Vitamin C. We can also recommend rehydration therapy based on your current symptoms and lifestyle.
Our paramedics check your vital signs prior to treatment, and we'll coordinate vitamin add-ins for $25 apiece.
Kickstart Your Rehydration IV Treatments Today
Rocky Mountain IV Medics is your go-to source for professional IV drip therapy. We help you get back on your feet in no time with the ability to restore fluids, nutrients and electrolytes in the body. If you are looking for rehydration therapy in Littleton, give us a call at 720-987-2155 or fill out our contact form to set up your first appointment.
Book Now!
This is the 1st item
This is the 2nd item
Serving Littleton & all suburbs!
Open 8AM-8PM, Sunday-Saturday