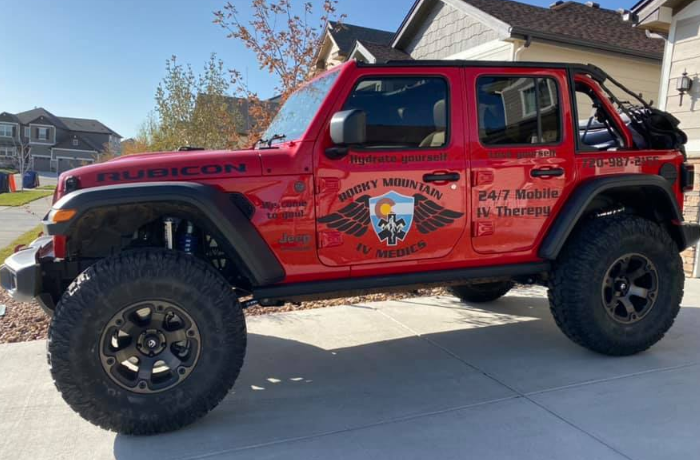 Nursing a hangover or prepping for a half marathon? Feeling under the weather or just plain overworked? If so, you need a powerful infusion of vitamins—fast. Rocky Mountain IV Medics can help you with IV therapy in Grand Junction that supplies quick relief. 
We're the leading provider of mobile IV therapy in the region. Book an appointment with us, and we'll be at your home, office, or hotel room typically within an hour. Our drip IVs deliver hydrating, vitamin-packed fluids directly to the bloodstream for maximum absorption and rapid effectiveness. Learn more about our team and our experience in providing mobile IV therapy in Grand Junction.
Uses of IV Rehydration
Therapy in Grand Junction
IV Therapy in Colorado's Wine Country
Grand Junction is known for its amazing wineries and vineyards. You can make a whole day out of visiting them, but if you're not careful, you'll be feeling the effects later. In Grand Junction, IV therapy from Rocky Mountain IV Medics helps you rebound so you can feel better.
IV therapy isn't just for hangovers, though. Our IV therapy packages work for a variety of issues, such as:
Dehydration
Illnesses such as colds and flu
Altitude sickness
Morning sickness
Jet lag
Nausea
Athletic recovery
Anti-aging
Weight-loss support
Chronic medical conditions such as migraines
Contact Rocky Mountain IV Medics and we will get you the right IV treatment for your specific needs.
Who Is Eligible for IV Therapy in Grand Junction?
We can treat patients age 12 and older, or those who weigh at least 100 pounds. You may benefit from IV therapy in Grand Junction if you are:
Recovering from the flu.
Dehydrated from activities like exploring the lake at Grand Mesa National Forest.
Got too much sun exposure from biking the trails at Powderhorn.
Partied too hard at the craft breweries downtown.
Trying to slow down the signs of aging, both physically and mentally. 
Managing your allergy symptoms so you can go fly fishing or explore the cultural scene.
And much more!
Rocky Mountain IV Medics lets you customize your drip IV with the vitamins, minerals, and medications your body needs—there's no one-size-fits-all treatment here. Contact us to experience the best mobile IV therapy in Grand Junction, CO.
IV therapy can help with a wide range of issues!
How Much Does an IV Drip Cost in Grand Junction?
The average cost for our mobile IV therapy services is $100 to $395, depending on which drip treatment you choose. Our IV packages are affordable and payment is easy with a major credit card.
When you choose Rocky Mountain IV Medics, you receive:
Fast, responsive service in any of our multiple service areas throughout the state.
Professional IV infusions are performed by experienced paramedics and registered nurses.
Personalized drip IV treatments featuring potent vitamins, minerals, supplements, or medications.
IV therapy that meets the highest standards of safety and patient care. 
Discover the difference IV therapy can make in your life. Our goal is to get you back to full strength, brimming with energy and vitality. Book an appointment with Rocky Mountain IV Medics today for high-quality mobile IV therapy in Grand Junction, CO.
How to Book a Mobile IV in Grand Junction 
Give your body what it needs to function at its best. Rocky Mountain IV Medics serves Grand Junction and the surrounding area with IV treatment that promotes vitality and vibrancy.

Contact us today to get started! Call (720) 987-2155, email us at contact@rockymountainivmedics.com or schedule an appointment online.
Book Now!
This is the 1st item
This is the 2nd item
Serving Morrison & all suburbs!
Open 8AM-8PM, Sunday-Saturday