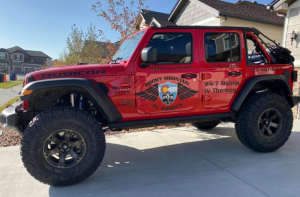 People who enjoy being active in the great outdoors are drawn to Westminster. There's plenty of breathtaking scenery to explore, and Standley Lake offers opportunities for hiking, fishing, kayaking, cycling, and much more. However, it's hard to enjoy all this natural beauty when you are run down from illness, exhaustion, or a chronic health condition. 
This also goes for people who have gone into the mountains for adventure only to start suffering from the effects of altitude sickness. IV therapy can get you back on your feet and back outdoors in no time.
Rocky Mountain IV Medics is the most reliable provider of IV therapy in Westminster. Need help rebounding from the flu, recovering from an intense workout, or easing the symptoms of a migraine or asthma attack? We bring our services right to your door—at your home, office, or other convenient location. Contact us to schedule an infusion with one of our registered nurses or certified paramedics and see the difference IV therapy can make in your life.
Uses of IV Rehydration
Therapy in Westminster
IVs are a fast, effective way to combat dehydration. When you are low on fluids, your body loses essential vitamins, nutrients, and electrolytes it needs to function properly. The rehydrating fluids in IV drip bags go into your bloodstream for rapid rehydration.
You can suffer dehydration after spending too much time outdoors in hot weather or sweating heavily during extreme physical activity without rehydrating. Dehydration is also a side effect of several medical conditions, ranging from food poisoning to hangovers to migraines. You can experience symptom relief when you use IV therapy for dehydration-related issues.
Rocky Mountain IV Medics serves patients 12 years and older with an array of IV treatments addressing different health concerns. Our packages can be used for:
IV therapy can help with a wide range of issues!
IV Therapy for the Home or Office
In the past, IV treatment would require care in a clinical setting, such as an urgent care center or hospital emergency room. Mobile IV therapy is the ideal solution that provides comfort and convenience. Contact us for treatment, and one of our experienced team members will be there within an hour of your initial call. Our paramedics bring thorough attention to detail to their jobs. They check your vital signs, discuss your health history before the infusion and monitor you throughout the session. Infusions take about 30 to 45 minutes and then you can resume your normal activities.
All of our IV treatments—including the popular energy booster, the Myers' Cocktail—feature high-quality ingredients for the best results. We offer affordable packages from $100 to $395, with the option to add supplements or medications at $25 apiece. There are additional costs for add-on items and custom packages. You receive added value when you join our VIP program, with exclusive specials, deals, and more. 
Schedule Mobile IV Therapy in Westminster
Don't let a health condition keep you from enjoying your day in beautiful Westminster. Rocky Mountain IV Medics has several locations throughout Colorado, so book an appointment online today.
Book Now!
This is the 1st item
This is the 2nd item
Serving Westminster & all suburbs!
Open 8AM-8PM, Sunday-Saturday
FAQ
1
How long does IV hydration therapy last?
IV hydration therapy can help you for a fairly long period afterward. Some customers report feeling hydrated for at least 24 hours after their IV therapy in Westminster. Regarding long-term health effects, the therapy can have ripple effects for weeks and months afterward, helping support an overall healthy lifestyle and recover from any symptoms plaguing you. Before you know it, you'll be back in action and hiking in the Rocky Mountains again.
2
How can I get IV fluids at home?
Getting IV fluids at home is easy with mobile IV therapy in Westminster. The medical professionals at Rocky Mountain IV Medics come straight to your home with high-quality, effective IV therapy in Westminster. You'll be able to select from our IV packages and personalize your IV fluid with add-in ingredients, as appropriate, starting at $25. As soon as we're there, it will only take 45 to 60 minutes to administer your IV treatment and be on our way.
3
What is IV therapy for hydration?
IV therapy is an effective way to rehydrate the body, effectively battling dehydration with a saline solution that works quickly in nourishing your cells and helping you feel better. Plus, many IV packages contain essential vitamins, minerals, and nutrients that will help nourish your body and support your overall health. For those suffering from cold symptoms, headaches, fatigue, and a number of other maladies, mobile IV therapy in Westminster and other parts of Colorado has proven to be an effective remedy. Come find out why our customers trust us in Westminster and beyond.