It's no surprise that the Montrose city slogan is "Stay here, play everywhere." The town is ideally located among some of Colorado's most beautiful landscapes, where opportunities abound for all kinds of outdoor activities. You can explore everything from the nearby Black Canyon National Park to the lively brewpubs. But you can't do that when you don't feel your best. And that's where Rocky Mountain IV Medics can help.
We provide mobile IV therapy in Montrose and the nearby area. Our medical professionals come to your home, office, or hotel room (typically within an hour) to perform IV infusions with high-quality vitamins, minerals, and other ingredients. You'll feel recharged and rejuvenated in no time. Book an appointment with Rocky Mountain IV Medics today!
The CO Drip
Our best selling IV drip in Denver is the Myers' Cocktail IV. The Myers' Cocktail is one of the most famous iv therapy packages in the world for one reason - it helps people feel better by alleviating symptoms of numerous ailments. This IV package costs $175 for in-home service. It has the vitamins, antioxadants, and eletrolytes needed to help you feel better from illnesses, hangovers, and more!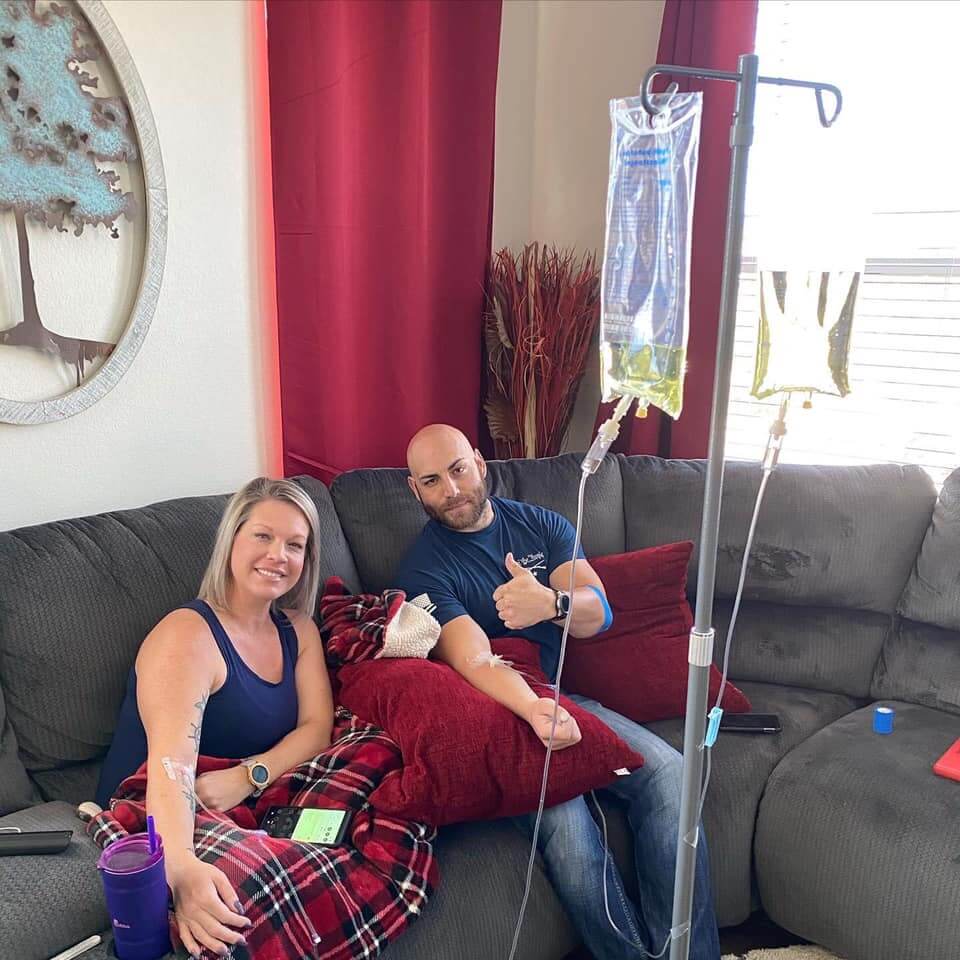 The Best IV Therapy in Montrose, CO
Many people use IV therapy for symptom relief; others incorporate treatment into their regular wellness maintenance routine to stay at the top of their game. In Montrose, IV therapy can be used for:
Dehydration
Illnesses like colds and flu
Hangovers
Altitude sickness
Athletic conditioning and recovery
Jet lag
Nausea
Morning sickness
Weight-loss or anti-aging support
Chronic medical conditions such as migraines. 
Contact us to learn more about our personalized IV therapy in Montrose.
Who Is Eligible for IV Therapy in Montrose?
Rocky Mountain IV Medics offers IV treatment to patients 12 and older or those who weigh at least 100 pounds. You can reap the benefits of IV therapy if you:
Need to quickly recover from the flu or food poisoning.
Want to decrease symptoms of a migraine or allergy attacks.
Want to maintain a high energy level to support your active mind and body.
Feel the after-effects of too much partying.
Are preparing for a major endurance or athletic event, like mountain biking in the nearby Dry Creek Area.
We offer IV treatments designed to meet a variety of health and wellness needs. Plus, all of our drip bags are customizable by adding extra nutrients or medications to the IV fluid. Our team can help you find the right IV treatment for you.
How Much Does an IV Drip Cost in Montrose?
We offer affordable IV therapy packages ranging from $175 to $395, with the option to add extra ingredients for a small fee. With every IV treatment, you get:
Experienced, professional care from registered nurses and paramedics (learn more about our team)
Reliable and convenient mobile service at your preferred location.
The ability to customize our wide array of drip IV bags.
Contact us today to experience the best mobile IV therapy in Montrose, CO.
This is the 1st item
This is the 2nd item
Serving Denver & all suburbs!
Open 8AM-8PM, Sunday-Saturday
How to Book a Mobile IV in Montrose
IV therapy helps you feel your best so you can stay and play in Montrose, enjoying life to the fullest. To book a treatment for mobile IV therapy in Montrose, CO, and the surrounding area, call (720) 987-2155, email us at contact@rockymountainivmedics.com, or schedule an appointment online.